CRM tools are your gateway to success especially in the case of private equity. These tools can help you streamline your work and save more time of your day. The efficiency of these tools in managing a business is unparalleled.
With a powerful CRM tool in hand, you can increase your productivity and profits. The basic aim of a CRM tool in private equity is to manage all the investments and keep track of your investments' performance.
An ideal CRM tool will help you:
Centralize your investment cycle
Enhance the efficiency of the process
Monitor all the investments, etc.
Deliver reports showcasing your performance
There are tons of options available in the market when it comes to the best CRM for private equity programs. Seeping through each one of them and identifying the ideal tool for your business can be a tough feat.
However, you will not have to do that because we have done all the hard work for you.
We will walk you through 9 of the best CRM for private equity that might help you with your private equity investments. You can read through the article and narrow down your choices to the one you want.
But before we jump on to the main course let us start with a quick intro to private equity.
What Is Private Equity?
Private equity is a different class of investment that deals with businesses not included in the public exchange list. It consists of funds and investors that are involved in buyouts of public companies and invest in public companies directly.
The efficient management of private equity shares demands a feature-rich CRM software that can easily handle all the processes, generate actionable reports and track your investments.
The capital from private equity can be obtained from private firms or retailers. This capital can then be invested in funding new projects, increasing working capital, and much more.
Features of the Best CRM for Private Equity Investments:
When on the lookout for a suitable CRM tool for your private equity investment and management, make sure that your pick has the following features:
Communication And Collaboration Features: You need a tool that can unify your workspace and bring all the teams together for smoother working. The tool of your choice should help keep everyone on the same page.
Reporting Features: The ideal CRM tool will generate comprehensive actionable reports that will allow you to track your performance and see how business processes are progressing.
Multiple Integrations: Your aim is to streamline your work and reduce your burden. Consequently, your CRM tool should make sure that you do not have to juggle between different apps and tools. With multiple integrations, you will have a unified platform where you can carry out all your tasks without any hassle.
A tool that offers all these features and more will be the ideal candidate for managing private equity. Let us now take a look at some of the best CRM tools in this regard.
The 9 Best CRM For Private Equity Platforms
Table of Contents
Top CRM for private equity firms
Let us look at some of the best CRM for private equity firms that you can start using today.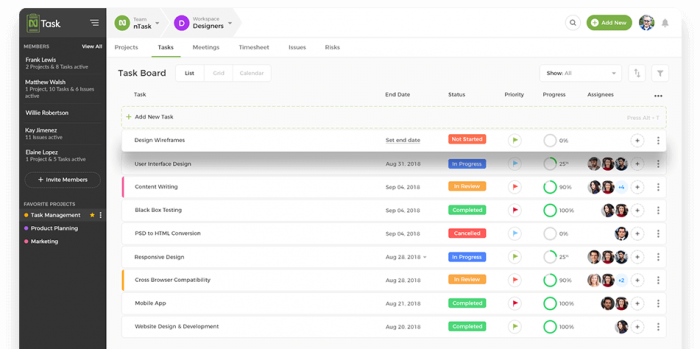 When it comes to CRM tools, nTask is our first choice. The project management tool has a lot to offer with its invaluable advanced features, a user-friendly interface, quick onboarding process, and reasonable pricing.
With over 250,000 users across 1555 countries in the world, nTask is gathering praises with its highly efficient management features and much more.
The tool has garnered praise from all over the world and continues to turn heads in the business world. Its seven elaborate management solutions can handle all the processes in your business and relieve your burden.
Key Features:
Generates reports showcasing the current status of your investments
Schedule meetings via the Meeting management module
Project budgeting
You can sync your calendar with Google
Track billable and non-billable hours for cost estimating
Feedback management
Calendar management
Allows you to attach and share files
Two-factor authentication for added safety and security
Pricing:
Basic plan – available for free forever
Premium plan – $3 per user per month
Business plan – $8 per user per month
Enterprise plan – Custom pricing
The best CRM for private equity.

Manage tasks, resources, contacts, and timesheets, all in one place. Sign up today!
2. Altvia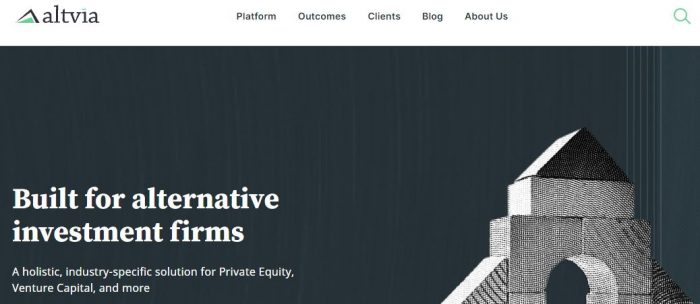 Altvia is our next choice for private equity management. The CRM tool is loaded with various features designed to help you improve your productivity. With its organization and integration, it helps you enhance your efficiency.
Key Features:
Provides a safe and secure platform for communication and data sharing
Displays data across various sources to offer a deeper insight into work processes
Helps generate documents and reports
Quickens the pace of fundraising by measuring engagement data and offering interactive dashboards
Helps you narrow down the most lucrative deals
Visual analytics offer a big picture of the process
Supports integrations with third-party sources
3. Microsoft Dynamics 365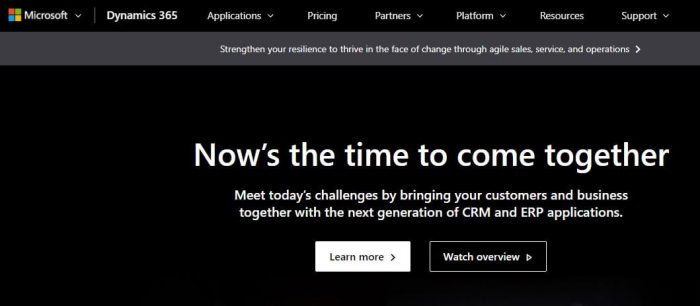 Microsoft Dynamics 365 is a one-stop-shop that offers insights into data, people, and sales processes. The tool is the first choice of various companies across the globe since it is packaged with hordes of different solutions in Microsoft Suite.
Key Features:
Contract management
Time tracking
Expense management
Generates accurate project quotes, forecasting, estimation, and scope.
Kanban Boards
Gantt charts
International Financial Reporting Standards make finance management easier
Optimize the utilization of your resources with resourcing insights, scheduling, governance, and skills matching.
Offers actionable insights for a quicker adaptability
Pricing:
Starts at $20 per user per month
4. Dynamo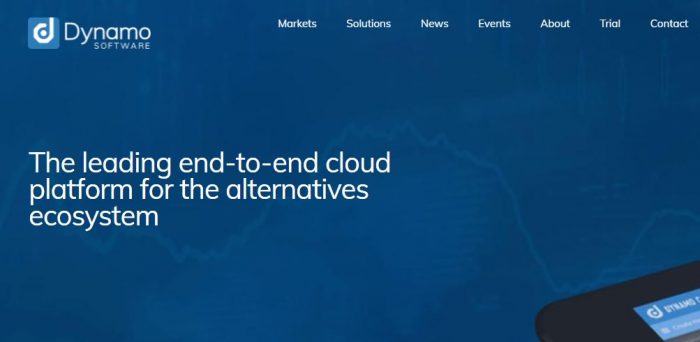 Dynamo is 4th on our list of the best CRM tools. The tool optimizes your relationship with your investors by helping you efficiently manage your information and contacts.
Key Features:
Deal management allows you to improve collaboration and track your team's performance.
Research management eliminates redundancy and simplifies reports for you
Keep an eye on past and current investment performance with manager tracking and due diligence
Offers integration with other data providers
Helps you track investors' relationships, activity history, and preferences.
Helps you create targeted fundraising campaigns
Offers insight into investment transactions, valuations, and much more.
Allows you to access all your data via iPhone or tablet
5. Clienteer

Clienteer is another CRM tool ideal for private equity. Its robust features allow asset managers to communicate with investors and other prospects and improves their efficiency by streamlining workflows.
Key Features:
A customizable drag-and-drop interface helps you keep track of your capital raising process
Helps you target investors based on their characteristics etc.
Automates the distribution of branded factsheets and custom reports
Email analytics help you identify the most interesting prospects
Duplicate checking features and leverage in-table editing features allow you to safe-keep the integrity of your data
6. Backstop solutions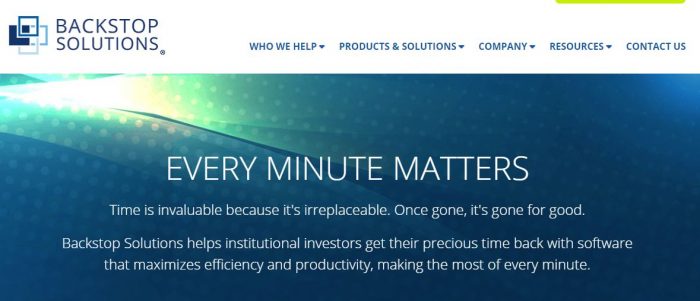 Backstop solutions aim to help users save their time by offering advanced features that allow quick and easy access, share, and management of knowledge crucial for your day-to-day business.
Key Features:
Easy tracking and management of capita pipelines fuels the fund-raising process
Provides you with a unified platform wherein you can manage investors, fundraising, deal tracking, portfolio management, and assets.
Data management
One centralized database for tracking all contacts and related interactions
7. 4Degress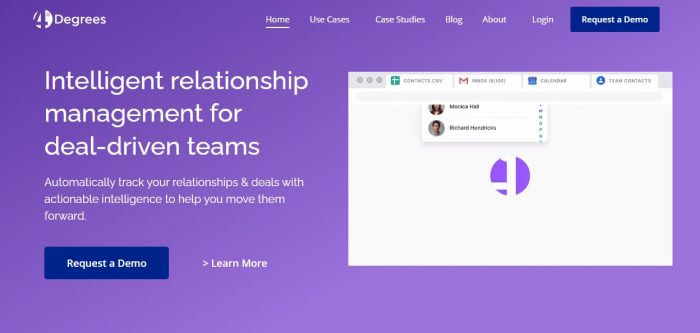 4Degress is our 7th pick for this list of best CRM tools for private equity. The tool is designed to help you by streamlining origination, due diligence, and deal life-cycle.
Key Features:
Auto-enriches your company and contact information in real-time
Keeps track of your interaction with contacts
Allows you to customize your deal flow pipeline
Relationship strength detection. Helps you determine the best past into a company
Sends auto-generated reports every Monday to keep you updated and informed
Offers 1000+ integrations with other tools via Zapier
8. Pipedrive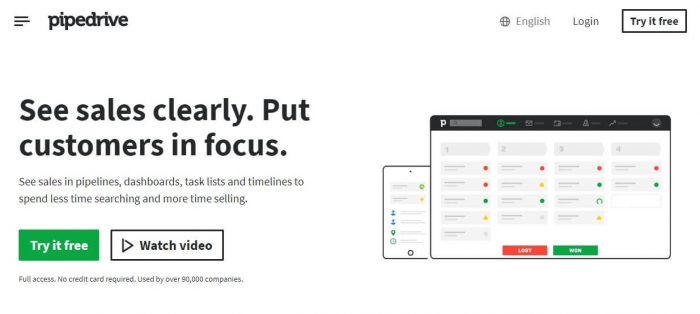 Pipedrive is a sales CRM and pipeline management software, that aims to save your money and time with its digital features. The tool offers visualization into your sales processes for enhanced efficiency.
Key Features:
Customize the name of your pipeline stages according to your sales process
Allows you to schedule meetings, emails, etc.
Measurable data insights
Automates repetitive administration tasks
Offers mobile apps
Integration with other tools
Pricing:
Essential – $12.50 per user per month
Advanced – $24.90 per user per month
Professional – $49.90 per user per month
Enterprise – $99.00 per user per month
9. Recruit CRM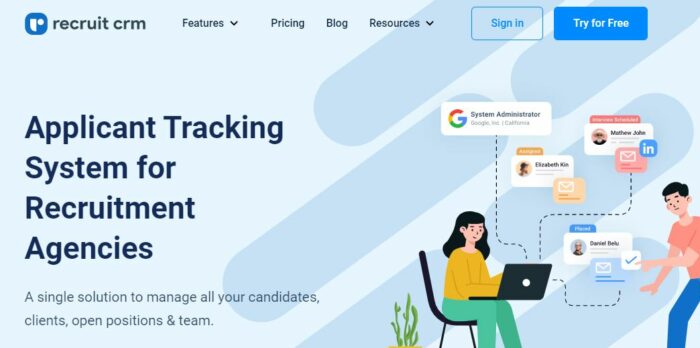 Recruit CRM is one of the best CRM choices for private equity firms in 2022. With cutting-edge technology, they're helping private equity firms globally with all their needs. Currently, Recruit CRM serves customers in more than 75 countries throughout the world.
Key Features
CRM software
High-level reports and dashboards
Email integrations
Advanced Boolean search
Custom deals pipeline
Pricing
Recruit CRM has a free version.
Team- $69 per user/month billed yearly or $85 per user/month billed monthly
Business- $99 per user/month billed yearly or $119 per user/month billed monthly
Enterprise- $125 per user/month billed yearly or monthly
Conclusion
That's all from our side. We researched and gathered data and curated this list of the best CRM for private equity firms. We sincerely hope that this list will help you choose your pick from the wide variety of options available in the market.
Which of these tools is your favorite? Would you like to add a tool to this list? If yes, which one? Let us know by writing to us at fwilson@ntaskmanager.com.
Till next time, Goodbye!