Are you ready to incorporate content production into your agency's marketing strategy? You're not alone. According to the Content Marketing Institute, 66% of marketers anticipate an increase in their content marketing expenditure in 2022.
High-quality content may raise brand exposure, create new leads, and increase overall engagement while staying a relatively inexpensive marketing strategy.
Nonetheless, producing unique content is not simple. It requires a significant degree of coordination from the members of your content team and involves numerous moving components.
The good news is that a well-designed workflow may improve the quality, accountability, and cooperation of your agency's content generation while streamlining the process.
However, selecting the appropriate content workflow software for your needs is key to implementing a workflow.
What is Content Workflow Software?
Content workflow software (a workflow management system) assists team members in centrally navigating and managing content development processes.
These software solutions enable team members to view their content development cycles better and to pinpoint the position of each piece of content throughout the process.
An extraordinary content workflow software may include additional capabilities (collaboration tools, workflow automation features, and templates) to facilitate content development.
Why You Should Employ Content Workflow Tools for Content Production
Having a content production workflow in place is one thing. Yet, having a workflow does not necessarily indicate that your team members are maximizing its benefits.
Without a standardized and accessible method for team members to track content output, assess deadlines, and identify roles and responsibilities, bottlenecks and other hurdles can easily impede your content strategy.
Using the appropriate content workflow tools, you can keep everyone on the same page and optimize your entire content development process. This ultimately results in higher-quality content and a greater marketing return on investment (ROI) for your firm.
How Does a Content Workflow Software Differ From a Content Management System (CMS)?
When it comes to developing a great content marketing strategy, there are various tools to consider. It might be intimidating, from SEO and keyword research tools to design software and editing tools.
To improve your content creation strategy, you must distinguish between content workflow tools and content management systems (CMS). The two serve very distinct roles but are both essential marketing team tools.
A content management system (CMS) is a technology that enables people to develop a website and its content without writing any code. WordPress is an excellent example of a popular CMS: Users may create websites using existing templates (both free and premium) with minimal HTML or CSS coding experience.
Users can then continue to publish and schedule new material using WordPress. In the meantime, accessible features and extensions (such as SEO extensions and other third-party software tools) can improve the content's performance and boost its quality.
Content workflow software is an overall sublevel content monitoring and management system. This software is either presented as a SaaS tool or requires local installation. Regardless, the idea is the same – i.e., to manage overall workflow so that content production and publishing don't deter from the schedule.
Benefits of Using Content Workflow Management Software
Now that you have a better idea of what content workflow software is and its applications examine a few of the numerous benefits your business may derive from employing this form of project management software.
Consider how much more effectively and efficiently your teams will be able to work when they use a consistent methodology to produce quality content. Content workflow systems automate numerous procedures (such as providing email updates on project progress) that waste employees' time and slow down projects.
When everyone is aware of their obligations and deadlines for each piece of material, there is no uncertainty over responsibilities or due dates. All of this increases the efficiency of your content-generating process.
When your content team consistently adheres to a specific workflow, your business operations become more consistent. Over time, team members will become accustomed to following the same procedures for producing high-quality material while cooperating with other team members.
A consistent procedure leads to improved quality control, so you can rest comfortably that your content consistently meets or exceeds your standards.
Creates a Streamlined Process
The process of creating and managing mass-scale content can get out of hand.
To begin with, it requires many individuals (including strategists, content authors, editors, and project managers) and several moving pieces (content briefs, style guides, editing resources, etc.).
A content development cycle can be derailed by a minor setback, such as a team member missing a deadline, as you have observed in the past.
When you employ a content workflow software solution to centralize your content development, you may experience a more united approach. Steps, responsibilities, deadlines, and other information regarding any particular piece of content are stored in a centralized location that is readily available to all team members. This can bring order to the content creation process and ensure everyone is on the same page.
When so many individuals are responsible for producing and publishing a single piece of content, the correct workflow management solution can even increase your team's collaboration, which is essential.
Numerous content workflow technologies facilitate real-time or asynchronous collaboration using messaging and other features.
Additionally, workflow management software may interact with various communication channels your team may already be operating, such as social media and email.
Considerations for content workflow software
Ostensibly, your agency might benefit from content management workflow software; however, with many alternatives available, how do you choose the best fit for your requirements? As you consider your choices, here are a few features to help your agency make the most of its content marketing workflow system.
Appropriate toolset for your team's size and composition
Consider the size of your content team and your agency's organizational structure while searching for a content management system. For instance, if you have a large, remote content team, you'll need to ensure that the workflow software you choose includes abundant collaboration capabilities to guarantee everyone is on the same page.
This may contain asynchronous communication options for individuals in various time zones.
In the meantime, you may also wish to seek automation capabilities that will save your team time while maintaining the integrity of projects. Some software solutions, for instance, provide automated check-ins that notify team members of the status of a project daily or weekly.
Some may also provide workflow templates useful for teams working on various content categories. These tools and features can help your agency maximize the software's effectiveness.
Integration with your style of work
Choosing a content workflow solution that readily integrates with your existing infrastructure is essential, as not all teams work in the same way or utilize the same technologies.
This is where selecting a workflow solution with a user-friendly design, and intuitive interface may make all the difference, enabling your staff to adapt to the new software with minimal disruptions. Your content workflow software should ideally provide specific integration support.
Similarly, ensure that the solution you select is compatible with any existing software tools your business uses.
Multiple modes of communication
Teams communicate in a variety of ways. Therefore, selecting workflow software that supports your team members' communication patterns is essential. For instance, an integrated messaging system may be helpful in real-time communication.
Integration with other communication channels (such as email and social media) may be necessary for teams operating in different time zones or at different times of the day.
Choosing a platform that facilitates communication between content team members will aid in keeping everyone on the same page and schedule.
The complexity of task and workflow customization
The best content workflow software packages are highly customizable to meet your organization's specific requirements. This should contain task management and workflow customization capabilities that allow team members to modify existing templates (or create their workflows from scratch) until they are perfectly tailored to each project.
Being "boxed in" with limited workflow modification choices can be annoying, primarily if your team produces a variety of content kinds that may require distinct workflows or steps.
Multiple workflow perspectives
Look for a content workflow system that provides many workflow perspectives. Each member of your content creation team will likely interpret and visualize information differently.
By displaying and controlling workflows differently, each team member can select the solution that best meets their requirements.
This enables everyone to work more effectively and productively, resulting in improved content.
---
6 Best Content Workflow Software For Content Production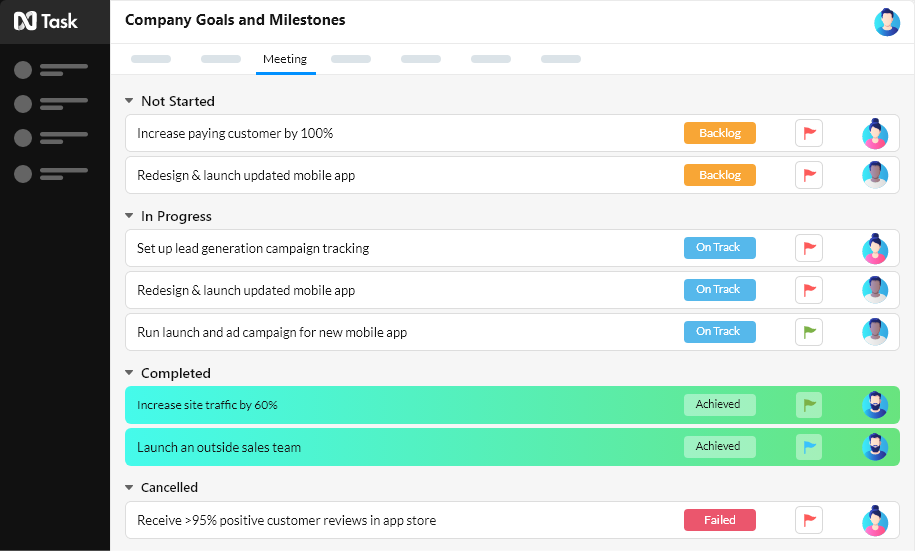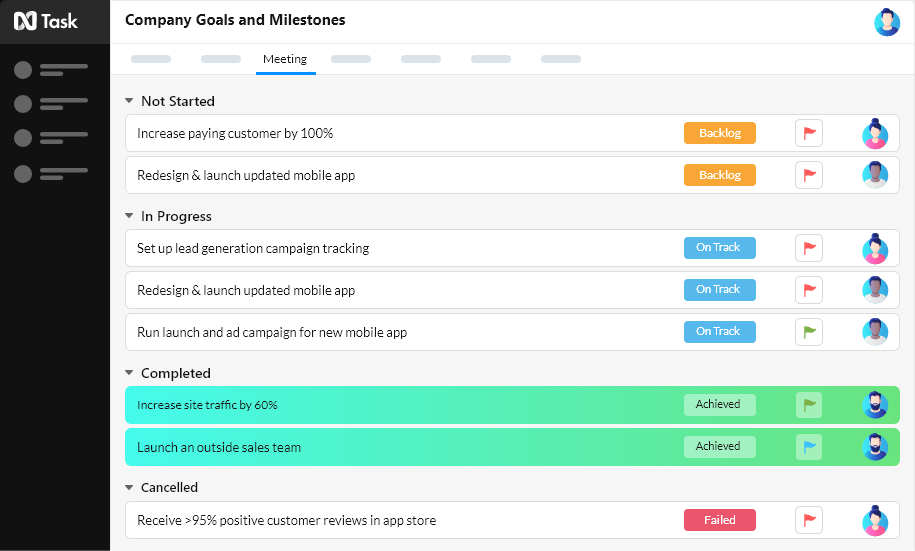 nTask is an all-in-one project management software that caters to the requirements of different industry verticals.
As a content workflow, the application offers multiple workspaces embedded with their respective tasks, simultaneous project monitoring, Kanban flow, and much more. Content managers can add team members to different workspaces, create task dependencies to prioritize content flow, and monitor everyone's performance from the get-go.
Features and Benefits
Dedicated workspaces
Multi-project management facility for content managers
Timesheets, billing module, and CAC facility
Multi-task view, interactive Gantt charts, and Kanban boards
Team management through multiple workspaces
Dedicated risk management module
Collaborate with site-wide team members via task embedded '@' feature
Pricing & Plans
Premium plan introduced at $3 per month, per user, when billed annually
Business plan starts at $8 per month, per user, when billed annually
---
2 – ClickUp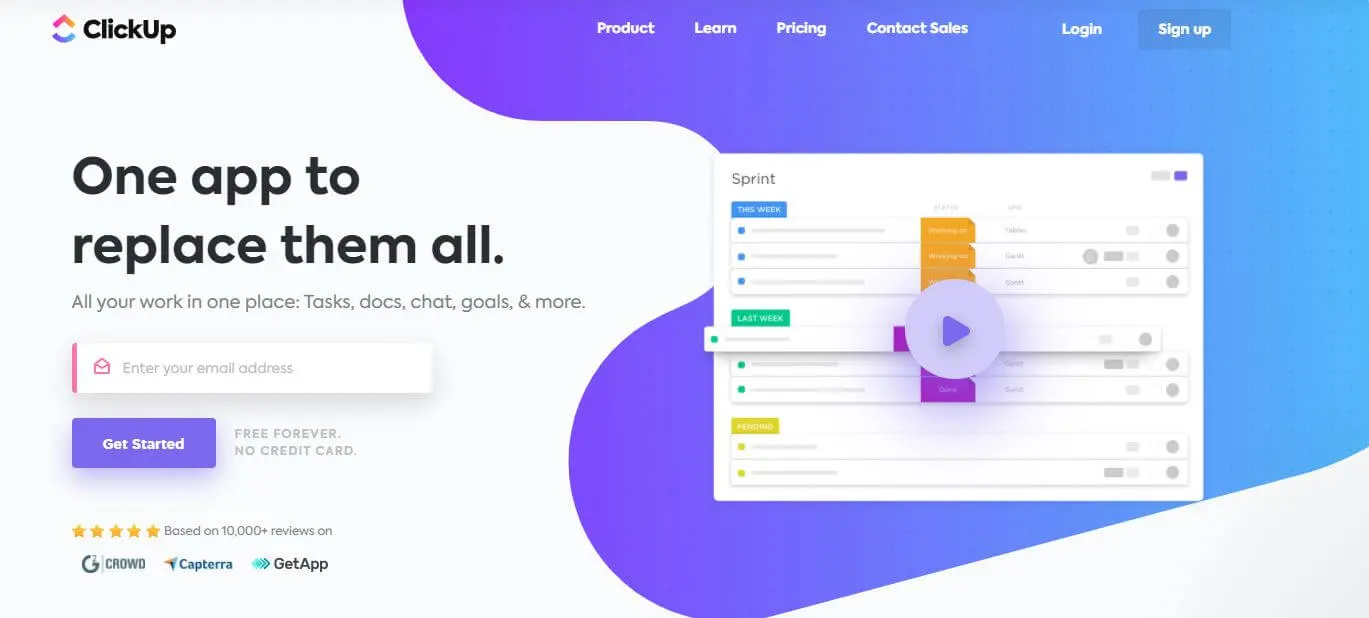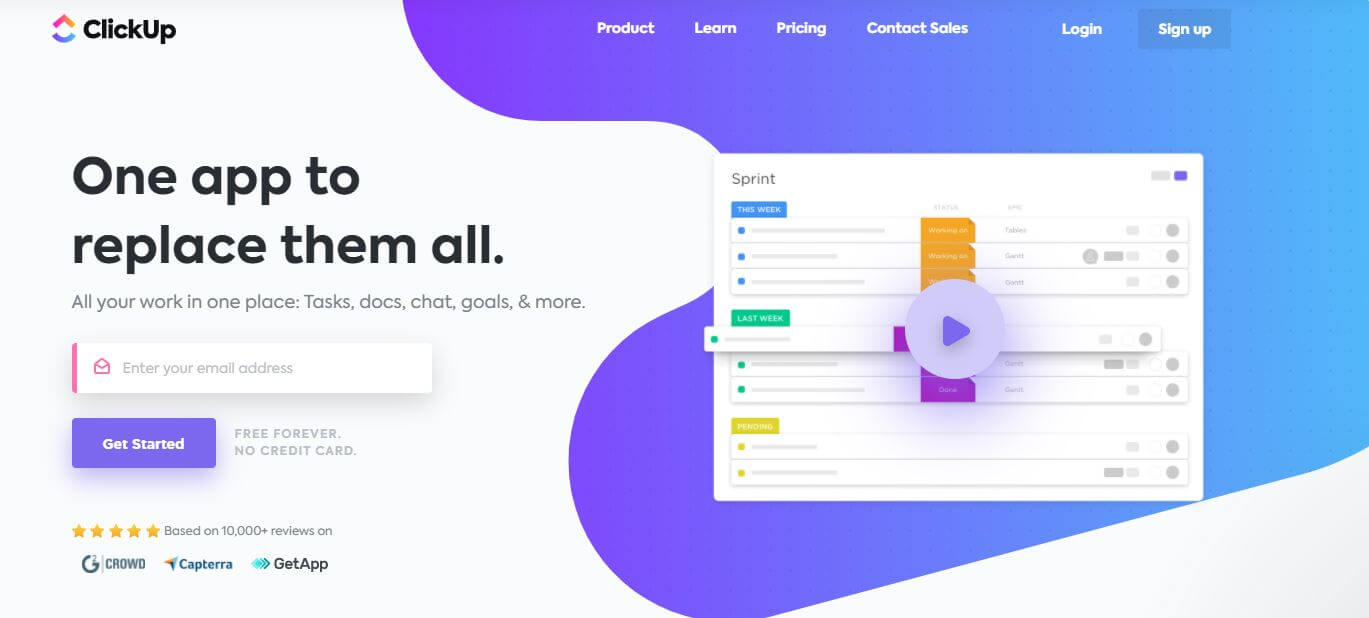 This popular content processing software is renowned for its adaptable interface that scales and changes with enterprises of all sizes.
Users have the flexibility to display their projects in more than 15 distinct ways, recognizing that everyone has a unique method of operation.
Features and Benefits
Real-time progress reporting on projects and tasks
Features for time tracking and reporting
Over fifty process animations
Integrations with over 1,000 additional popular apps
Pricing & Plans
Free Forever: $0 and designed for personal use
Unlimited: $5 per month per user (ideal for small teams)
Business: Twelve dollars per user each month (ideal for mid-sized teams)
Business Plus: $19 per month per user (ideal for multiple teams)
Enterprise: Requires a custom quote (ideal for many large teams)
---
3 – Trello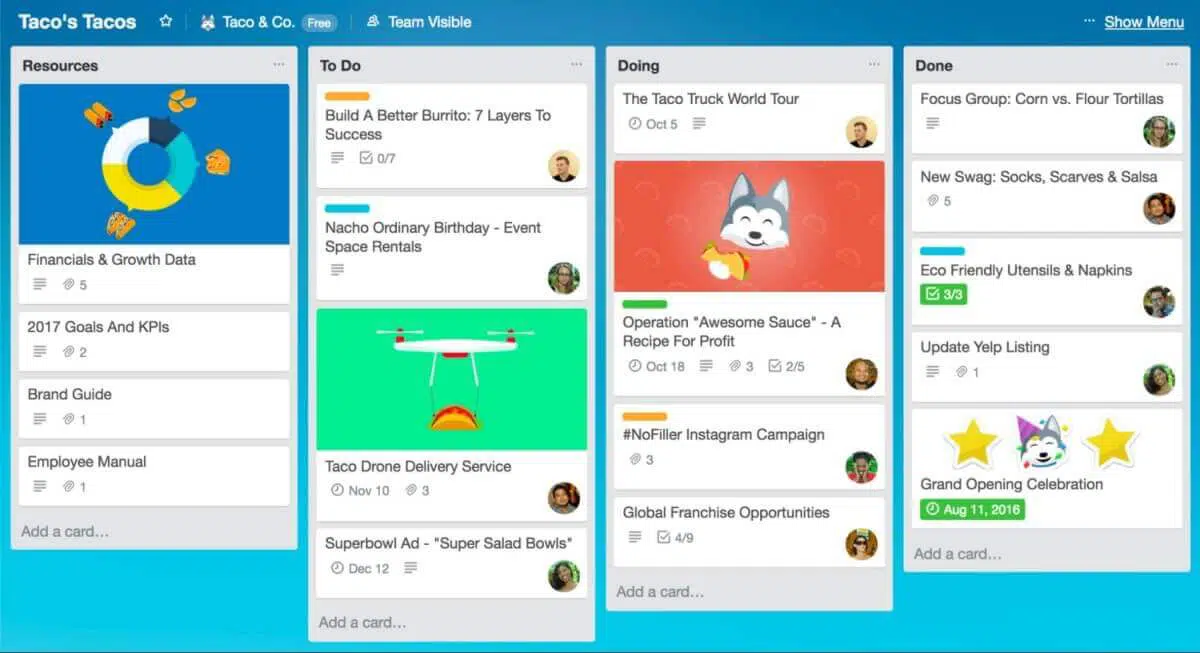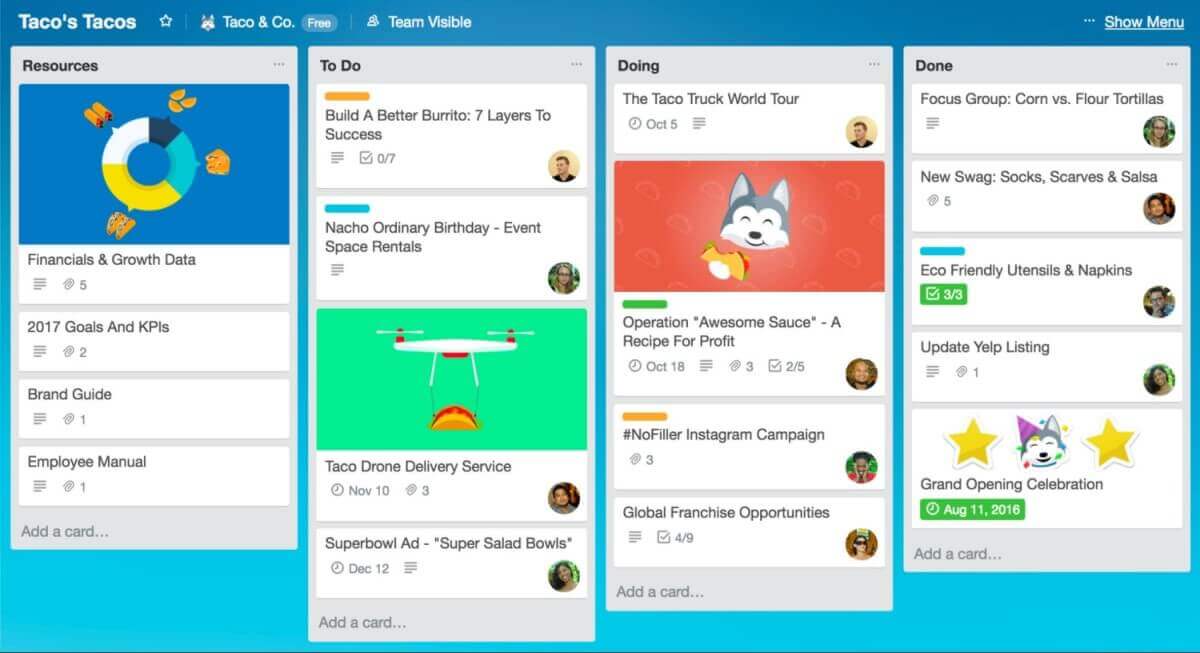 Trello is a popular option for start-ups and small businesses searching for a content workflow software.
This platform, renowned for its affordability and ease of use, performs its functions at a fair cost.
Features and Benefits
Multiple viewing options are available, such as a table, calendar, timeline, and map. 
Process automation
Integrations with other widely used software, such as Google Drive and Slack
Pricing & Plans
Free: Zero dollars for individuals and teams.
Standard: $5 per month per user
Premium: $10 per month per user (for up to 100 users)
Enterprise: $17.50 per month per user
---
4 – Monday.com


This content workflow management software is meant to simplify content creation and project management.
With over 200 workflow templates to accommodate virtually any type of material your team might be developing, monday makes things a lot easier to streamline.
Features and Benefits
Instant chat, tagging, and sharing are examples of in-app communication tools.
Integrations with almost 40 popular applications
Board, Gantt, and timescale perspectives
Time monitoring and timesheets to generate reports
Pricing & Plans
Individual pricing: $0 for up to two people
Basic: $8 per user each month
Standard: $10 per month per user
Pro: $16 per user each month
Enterprise: Requires a custom quote
---
5 – Wrike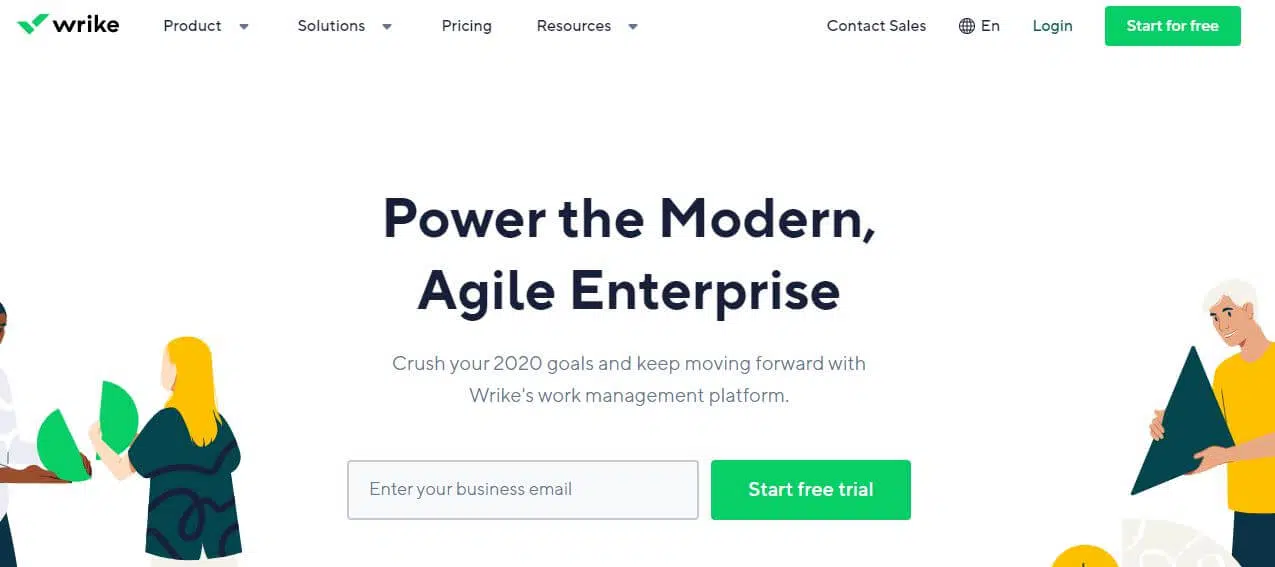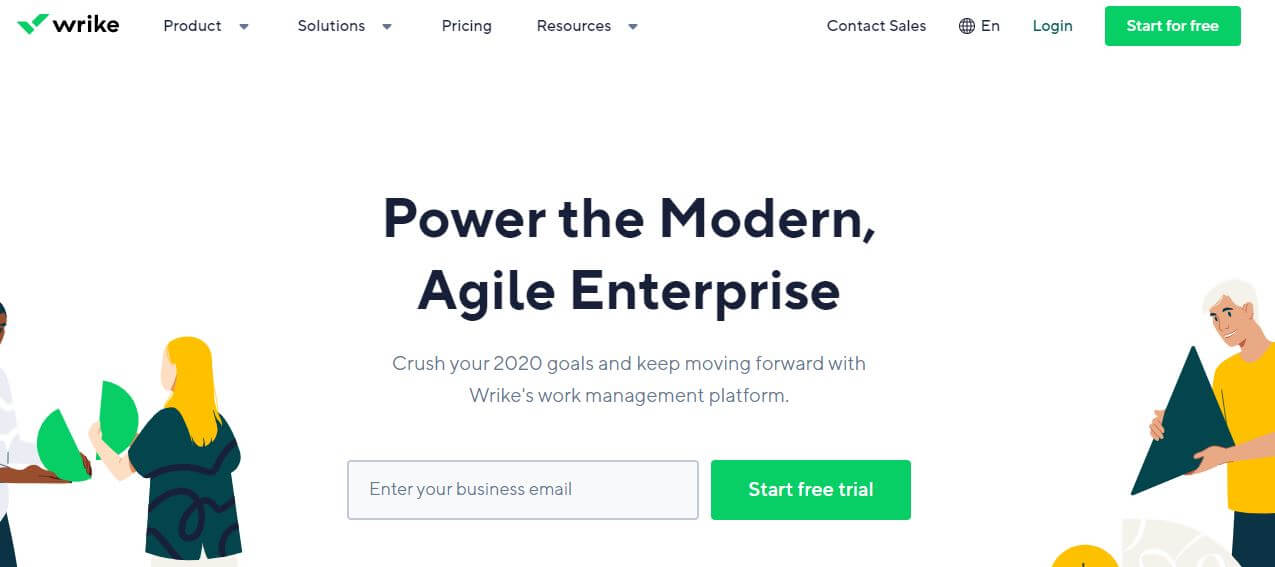 Wrike is a project management tool with numerous customizable features that keeps team members on track and on schedule.
Features and Benefits
Integration with over 400 other applications
Views of a Kanban board, table, and spreadsheet
Real-time reporting with adaptable input parameters
Notifications concerning the status of projects and tasks
Pricing & Plans
Free: $0 (excellent for teams getting started with workflow management)
Professional: $9.80 per month per user (for growing teams)
Business: $24.80 monthly per user (for larger agencies)
Enterprise: Requires a custom quote
---
6 – Teamwork
Teamwork is an all-in-one project management platform with adaptive workflow tools to improve your content creation.
It was designed with marketing teams in mind and is trusted by more than 20,000 enterprises.
Features and Benefits
Kanban boards to assist group members in visualizing project tasks
Unlimited client users for collaboration (perfect for agencies)
Templates to facilitate setup
Simple time-tracking capabilities
Comprehensive custom reporting for monitoring performance
Integrations with other typical business applications, as well as an API for customization
Pricing & Plans
Free Forever: Zero dollars for up to five users
Delivery: $9.99 per user/month (minimum of five users)
Grow: $17.99 per user each month (minimum of five users)
---
Conclusion
Merely having a content workflow management software isn't enough; it requires due diligence on multiple fronts to get things done. Sadly, many companies have robust software and automated tools to monitor progress but fail to complete deadline-oriented work.
Our best recommendation is to review the aforementioned tools and give them a shot through the trial program. If something matches your business requirements, feel free to sign up for a paid plan.
Good luck!