Today, the world economy is revolving around the businesses that make up the organizational paradigm.
Regularizing these businesses is a herculean task and for the most part, businesses are investing more in generating more businesses and less in optimizing their workflow via business process management software.
This is because of the lack of awareness among the masses about the repercussions of bad business process management.
In this article, we will address that exact problem. Every business nowadays needs good software that efficiently takes care of all of the activities being performed to generate value for the company. Then why not software to take of business process management?
What is process management software?
Process management software is a tool that helps businesses automate and streamline their workflows and processes. It allows organizations to standardize procedures and ensure tasks are completed efficiently and effectively.
Process management software typically includes features such as task management, project management, time tracking, collaboration, and workflow automation.
These features enable businesses to manage their processes from start to finish, ensuring everyone involved is on the same page and working towards the same goals.
By using process management software, businesses can improve their productivity, reduce errors, and reduce manual work. It also helps teams stay organized and focused on the most important tasks, leading to better outcomes and increased customer satisfaction.
Process management software is especially useful for businesses with complex processes and workflows, as it can help them simplify and streamline their operations.
It also provides valuable insights into how processes are performing, allowing businesses to identify areas that need improvement and optimize their operations for better results.
Explained further are 12 amazing business process management applications that you can use to make your business more efficient and productive.
Here Are The 12 Best Business Process Management Applications to Use in 2023
Check out some top BPM software available.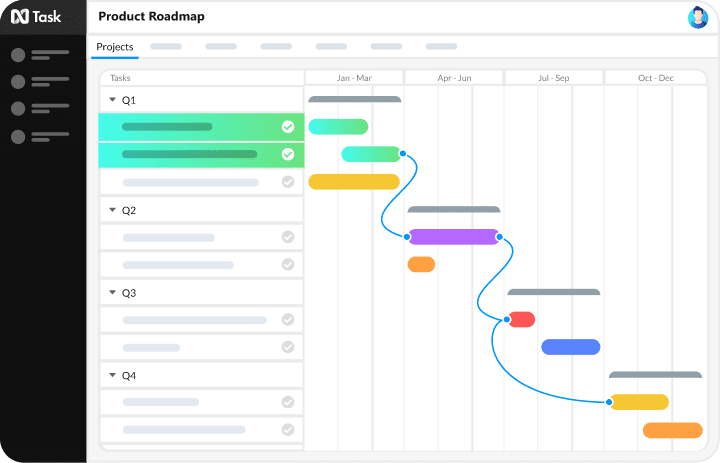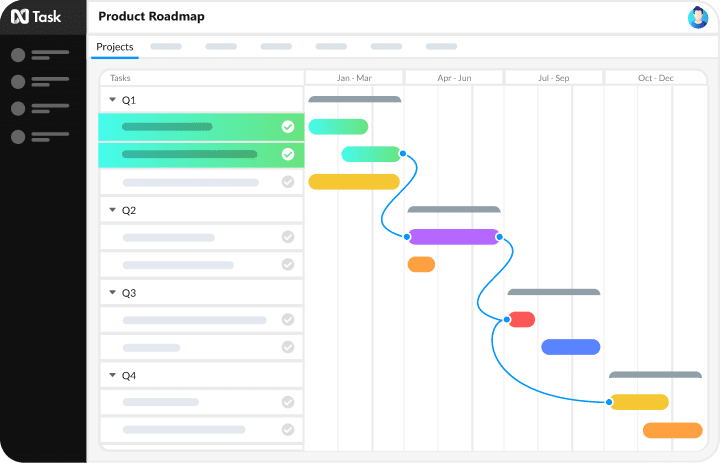 nTask is a comprehensive business process management software that helps businesses streamline their operations, increase productivity, and achieve their goals efficiently.
It is an all-in-one tool that combines project management, task management, team collaboration, and time-tracking features in a single platform.
One of the standout features of nTask is its intuitive interface, which is easy to navigate and use. This makes it ideal for businesses of all sizes and industries, whether you are a small startup or a large corporation.
With nTask, you can automate your business processes, track progress, and monitor real-time performance.
Features:
Project Management: nTask allows you to create and manage projects effortlessly. You can assign tasks, set deadlines, and track progress in one place. You can also create Gantt charts and visualize your project timeline to ensure you stay on track.
Task Management: nTask's task management feature lets you create tasks, assign them to team members, and set priorities. Add labels, tags, and comments to tasks to keep everyone in the loop. Furthermore, you can set reminders and notifications to ensure tasks are completed on time.
Collaboration: nTask's collaboration feature allows team members to communicate and collaborate on tasks seamlessly. You can share files, comments, and feedback with your team members, ensuring everyone is on the same page.
Time Tracking: nTask's time-tracking feature helps you monitor how much time is spent on each task. This enables you to identify areas that need improvement and optimize your processes for better productivity.
Customization: nTask allows you to customize your workspace to suit your specific needs. You can choose from different themes, templates, and modules, giving you complete control over your tasks and projects.
Pricing Plans:
nTask offers three pricing plans: Business and Enterprise.
Premium: The Premium plan costs $3 per user per month and includes all the Basic plan features and unlock Gantt charts, Kanban boards, and more amazing features.
Business: The Business plan costs $8 per user per month and includes all the Premium plan features plus advanced features such as Risk Management, Custom fields, and task automation.
Enterprise: The Enterprise plan is customizable and tailored to your specific needs. It includes all the Business plan features plus advanced customization options, dedicated support, and enterprise-grade security. To get pricing information for this plan, you must contact nTask directly.
Process management
made easy with nTask!

Monday.com is an incredible application in the market right now that enables you to perform your business activities without hassling with typical management tools. It also has some of the most intuitive layouts that enable you to seamlessly make your sequence of work more efficient.
It is one of the most customizable applications out there in the domain of business process management. How? Well, for one thing, it enables you to work in whatever methodology you want, Kanban or otherwise. It depends on your project and what kind of team you are working with.
Monday.com can be easily integrated with the following business-related application, such as:
Key Features
Activity Logging
Due date tracking
Execution board
PipeDrive integration
Tags & Keywords
User access controls
Survey
Customizable Fields
Email updates
Motivational tool
Relevant updates
Time tracking by project
Visual progress display
Workflow management
Pricing
A free trial is available
If you want the subscription for this software then that starts from $39/month

Orchestly is second in line when it comes to business process management software. This application enables you to manage, optimize and automate different business process-related activities.
This software was created to primarily facilitate the medium and enterprise-level businesses in any industry. One thing that it does perfectly is that it automates all your interdepartmental workflows across different departments like Finance, Legal, Marketing and HR, etc.
The application is only able to sync with Active Directory and has a role-based access control system. It also allows you to connect with third-party applications like Zoho Flow and Zapier.
There is also a marketplace where you can acquire so many built-in extensions like Dropbox, Google Drive, and Slack among others.
Key Features
Access Controls/Permissions
Business Process Automation
Compliance Tracking
Form Customization
Process Modeling & Designing
Request Tracking
Visual Workflow Management
Alerts/Notifications
Business Rules Management
Flowchart Creation
Process Mapping
Reporting/Analytics
Third-Party Integrations
Workflow Configuration
Pricing
A 15-day trial period is available if you want to test out the application
If you want to avail the subscription for this software then it starts at $8/user/month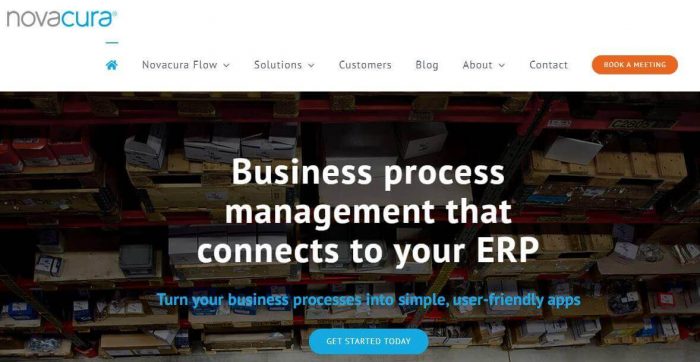 If you want a business process management software that connects to your ERP, then Novacura is the application you want. It allows you to generate low-code, business-oriented software and also enable you to push that software's towards the users.
The third-party integrations that you can do with this software include MS Office, IFS Applications and many others.
Key Features
Access Controls/Permissions
Business Process Automation
Collaboration
Visual Workflow Management
Alerts/Notifications
Business Rules Management
Process Change Tracking
Process Modelling & Designing
Pricing
A free trial is not available
If you want to avail the subscription of this software then you have to contact the company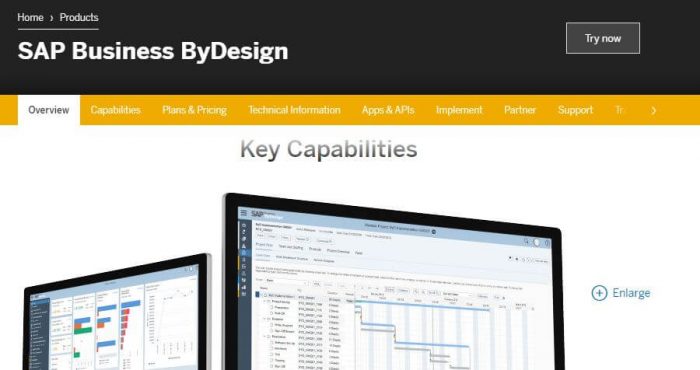 This is an incredible software that was designed to connect all of the functions and processes happening within your company. It is an incredible cloud ERP application that connects your business services in a quick-to-integrate package.
This software can be integrated with different applications like:
DiCentral EDI Integrated Suite Onlineshop
ERP Logic
Cloud Solutions
BEX
DiCentral
Wirecard
Snap International
Paymate
All4Cloud
Bradler
iService Globe
Suportis
Key Features
Automated Invoice Processing
Billings Management
Customer Collections
Cash Management
Travel & Expense Management
Period Close
Subledger Reconciliations
Automatic reordering
Manufacturing module
Order entry
Cost of goods sold
End-to-end order visibility
Salary revision and increment management
Dashboards
Custom reports
Plug-ins
Single sign-on capability
User-level audit trail
Shared Services Payments
Customer Receipt Applications
Revenue Recognition
Asset Management
Budgetary Control & Encumbrance Accounting
Transactions Tax
Inventory tracking
Location management
Pricing
Credit card processing
Order Orchestration
Order exception Resolution
Reimbursement management
Standard reports
API for custom integration
Role-based user permissions
Multi-factor authentication
Pricing
A free trial is not available
If you want a subscription of this application then that starts at $17/user/month

This application is a business-changing software that supports features like automation of all of the processes involved, customer journey through the whole business process, governance, risk management, and compliance among other things.
Internal applications that you can integrate with the application include Process, Flowcharter, and Process for Six Sigma. All of these applications can be purchased in the market today.
Key Features
Process Change Tracking
Process Capture
HIPAA Compliant
OSHA Compliance
File Sharing
Customizable Dashboard
Workflow Configuration
Access Controls/Permissions
Drag & Drop
Templates
Reporting/Analytics
PIA / DPIA
Reporting/Analytics
IT Risk Management
Document Assembly
File Type Conversion
Design Analysis
Knowledge Management
Multi-Channel Data Collection
Reputational Risk Management
Process Mapping
Discrete Event Modeling
Stochastic Modeling
Business Rules Management
Document Retention
Drag & Drop
Data Source Connectors
Business Process Automation
Private Dashboards
Functions/Calculations
Annotations
Risk Reporting
Response Management
Visual Workflow Management
Access Controls/Permissions
Alerts/Notifications
Reporting/Analytics
Audit Management
ISO Compliance
And about a ton more features. For detailed insight, you can log on to the official vendor website at your discretion.
Pricing
Free trial of 30 days is available if you want to test the application out
If you want to avail the subscription of this application, then you must contact the company

Another best business process management software is Frevvo. It is a simple workflow automation software that helps reduce paper and free up more employee time to focus on things that matter.
This handy point-and-click application will help you quickly automate online forms & approval workflows for different business verticals, including HR, Finance, Higher Education, and K-12 Schools.
Fully automated streamlined workflows can be created using a visual form and workflow designers and point-and-click wizards, you can transform expensive, manual processes into fully automated, streamlined workflows.
With Frevvo, your customers can interact with you anytime, anywhere, and from multiple computing platforms, your business users are more productive, and your programmers are more efficient.
Key features:
Access Controls/Permissions
Calendar Management
Customizable Dashboard
Forms Management
Mobile Access
Task Management
Workflow Configuration
Business Process Automation
Compliance Tracking
Document Management
Graphical Workflow Editor
Deployment Management
Integrations Management
Templates
Business Process Automation
Drag & Drop Assembly
Visual Modeling
Pricing
30-day free trial
From $260 per month (annual billing)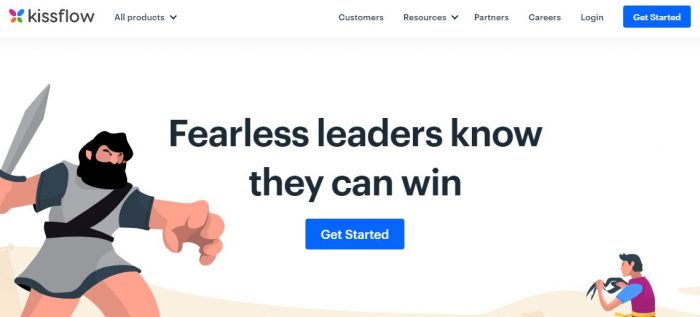 Kissflow is a simple, efficient, and optimal digital workplace designed to manage your work and keeps a track of business processes. The tool automates workflow to lessen the chaos and organize your work processes.
The software is designed to boost productivity to improve the pace and quality of business processes in the organization.
Features
User friendly and ensures seamless workflow through its tailor-made features.
Offers a Dynamic reporting system
Process Audit provides an immediate digital paper trail of all the steps in the process
Offers process optimization
Visual process design helps in creating visual workflows and allows to make changes anytime.
Items are automatically routed based on SOPs.
Reassigns items to relevant team members after the process has started.
Agile deployment cuts short delays
Intuitive user interface.
Easy communication and enterprise mobility.
Easy document sharing
Code-free workflow forms.
Pricing
Basic – $10 per user per month
Advanced – $9.90 per user per month
Fully loaded – $19 per user per month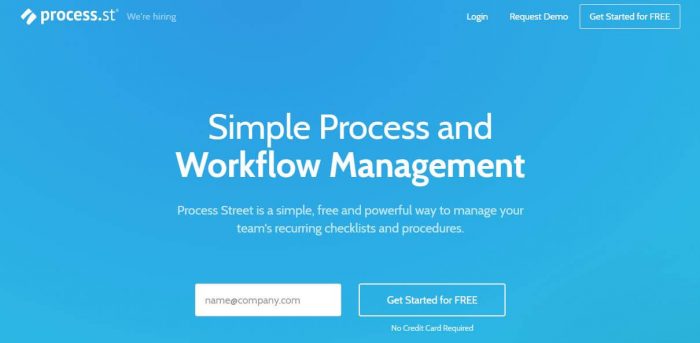 Process Street is a simple, free and powerful business process management tool that helps you manage your team's recurring checklists and procedures. The tool allows you to collaborate with your team and track the progress of workflow.
With the help of the tool, you can organize your documents and simplify the processes in your company.
Features:
Assists in creating procedure documents in seconds.
A simple interface, intuitive keyboards, and keys make it user-friendly.
Helps create and assign tasks to teams and also notifies when the work is done via the dashboard.
Streamlines approval process
1000+ integrations
Pricing:
Basic – $12.50 per user per month
Standard – $25 per user per month
Enterprise – Contact team Process Street for custom pricing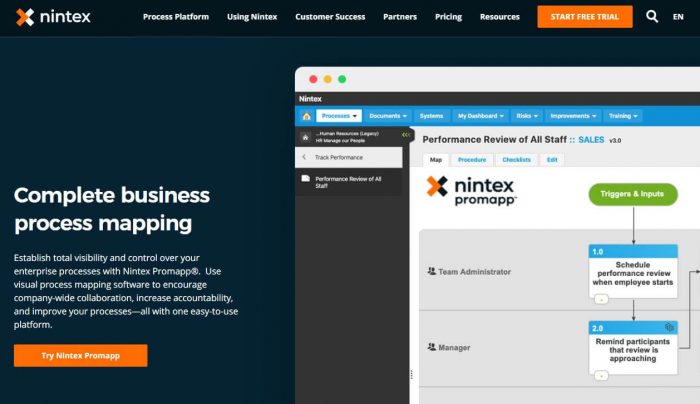 If you want an all-in-one business processes management software then Nintex is the software for you. Nintex offers multiple solutions to help you save time, improve your productivity and save your finances as well.
With the trust of over 10,000 organizations across the world, Nintex continues to charm businesses with its elaborate process management features.
Key Features:
Process Mapping
Process Collaboration
Workflow Automation
Digital Forms
Mobile Apps
K2 Software
Robotic Process Automation
Document Automation
eSignature
Process Analytics
Connectors
Solution Accelerator Gallery
Pricing:
Nintex Promapp Standard – $955 per month
Nintex Promapp Enterprise – $1405 per month
11. ClickUp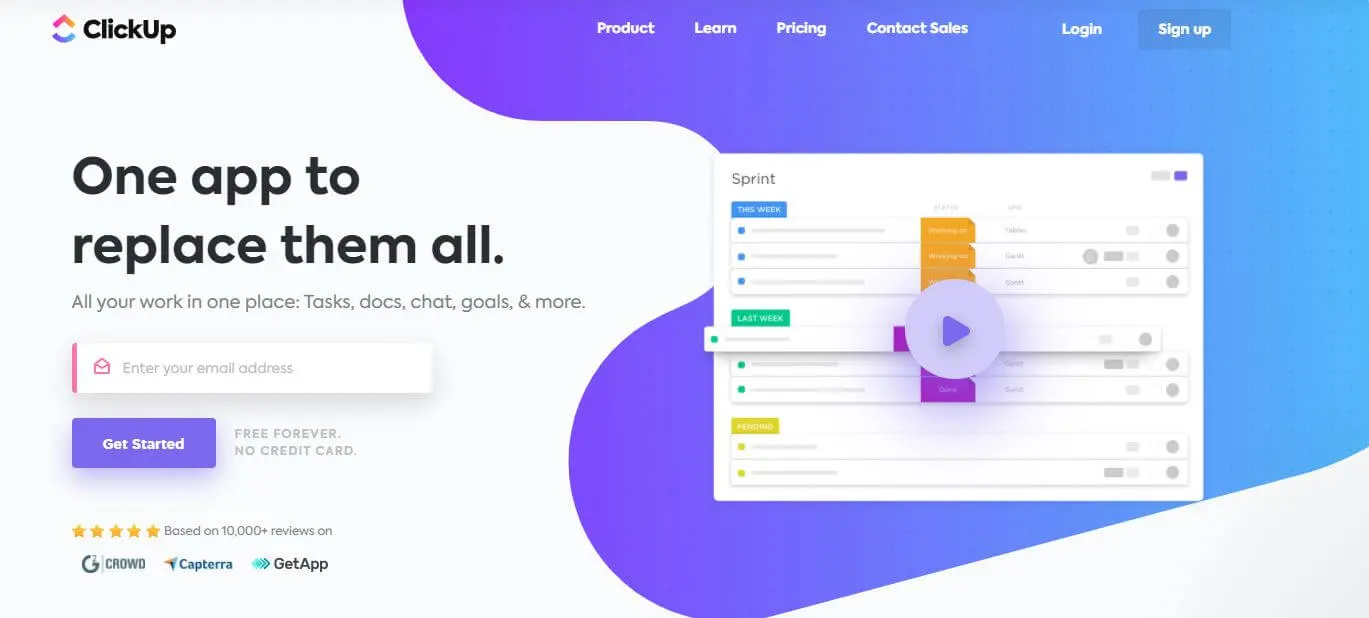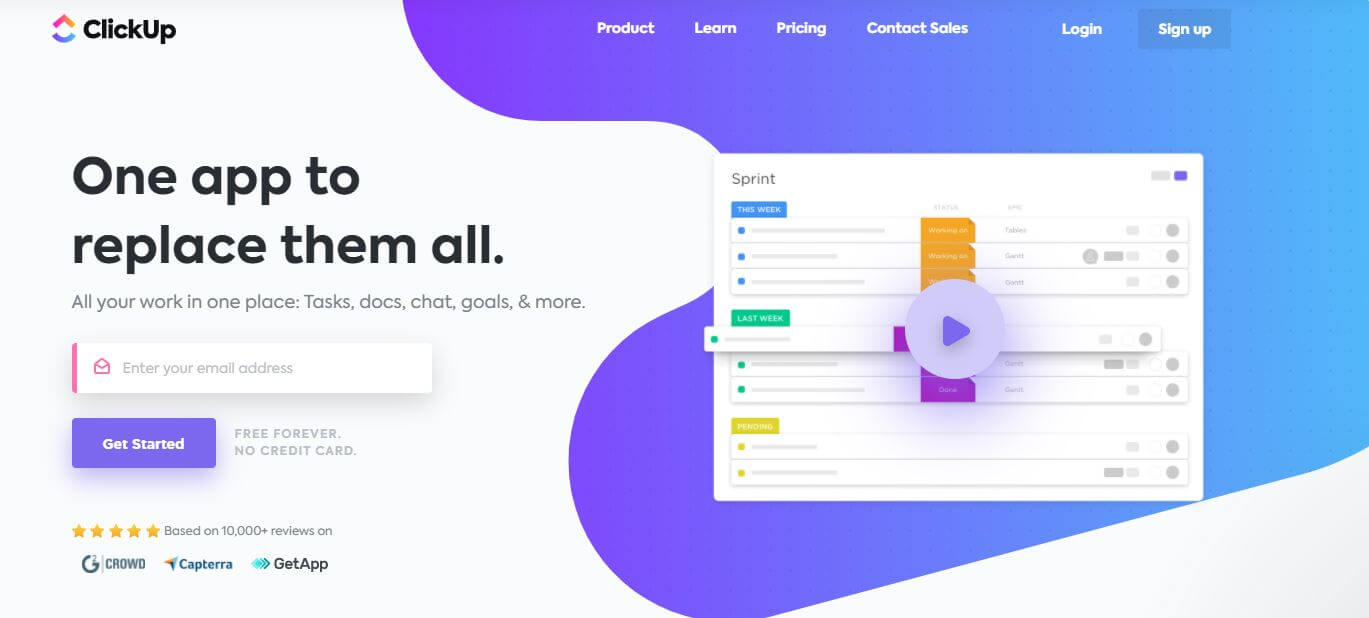 ClickUp is a powerful business process management application that helps businesses streamline and automate their workflows. 
It offers a wide range of features and functionalities, including project management, task tracking, team collaboration, time tracking, goal setting, and more.
With ClickUp, businesses can create custom workflows, set priorities, assign tasks, and monitor progress in real-time. It also integrates with other business tools such as Google Drive, Slack, and Trello, making it easy to manage all aspects of a project from one central location.
ClickUp is a comprehensive solution for businesses of all sizes looking to optimize their processes and increase productivity.
Key features:
Customizable workflows and task statuses
Project and task management
Time tracking and time estimates
Collaboration tools, including comments and mentions
Goals and OKRs tracking
Reports and analytics
Integrations with other business tools
Pricing:
Free plan with limited features
Unlimited plan for $5 per user per month
Business plan for $9 per user per month
Enterprise plan with custom pricing and advanced features
12. Smartsheet


Smartsheet is a cloud-based business process management tool that helps businesses automate and streamline their workflows.
It allows project managers to create and customize project plans, assign tasks and responsibilities to team members, and track project progress in real-time. 
Smartsheet provides features like Gantt charts, resource management, and task dependencies, which help project managers to plan and execute projects effectively.
With Smartsheet, businesses can create custom workflows, set up alerts and reminders, track progress, and manage resources in real-time. It also integrates with other business tools such as Microsoft Office 365, G Suite, and Salesforce, allowing for seamless collaboration and data sharing.
Smartsheet is a flexible and scalable solution for businesses of all sizes looking to optimize their processes and increase efficiency.
Key features:
Project planning and tracking
Gantt charts and calendars
Resource management and allocation
Task dependencies and milestones
Collaboration and communication tools
Automated workflows and alerts
Reporting and analytics
Integrations with other business tools
Pricing:
Individual plan for $14 per user per month
Business plan for $25 per user per month
Enterprise plan with custom pricing and advanced features
What does a process management system do?
The ability of a business to optimize its workflows is where the true value of having a process management system lies.
By tracking inputs from individual processes, it's easier for managers to identify areas prone to bottlenecks or those that tend to be inefficiently managed.
Once identified, they can devise strategies on how best these problems should be addressed by considering factors such as available resources or existing organizational policies/procedures.
Additionally, measures such as adjusting staff workloads may be implemented through automation features offered by certain systems; doing so ensures team members are not overburdened while achieving desired output levels in line with operational goals set forth by top-level leadership.
In addition to tracking and improving internal workflows within an organization, powerful process management systems allow users to create customer-facing applications such as online forms or interactive websites where customers can provide feedback or check service status updates quickly without having to contact customer service directly in most cases; this eliminates redundant queries and further enhances customer satisfaction levels thus increasing sales opportunities for businesses overtime.
When used properly, a process management system can help organizations stay focused on achieving key performance indicators without sacrificing quality –allowing them to meet their long-term objectives quietly yet consistently.
What are the benefits of a business process management system?
Business process management systems are critical for organizational success.
They provide organizations with the tools and resources to streamline processes, reduce costs, improve customer service, increase efficiency, and drive innovation.
Here are some of the key benefits of a business process management system:
1. Improved Efficiency
Business process management systems help organizations identify waste in their processes and find ways to eliminate it.
This leads to improved efficiency in operations and customer service, reducing expenses due to wasted time or resources.
2. Streamlined Processes
A BPM system can help streamline multiple processes into one unified workflow.
This helps ensure consistency across all departments and makes it easier for employees to understand the workflow requirements associated with different processes.
3. Automation
With a BPM system, organizations can automate mundane tasks that would otherwise take up valuable time from staff members for manual labor.
BPM automation can also be used for complex tasks such as data analysis or generating reports if needed.
4. Increased Agility
Business process management systems enable businesses to quickly adjust their workflows based on changing market conditions or customer demands without disrupting operations while keeping costs low at the same time.
5. Comprehensive Insights
With powerful analytics capabilities built into many modern BPM solutions, organizations can access comprehensive insights into their operations that may have been previously inaccessible or buried under mountains of paperwork previously stored manually.
These insights allow them to effectively manage their activities more efficiently over time.
6. Improved Compliance
Finally, having an automated business process ensures compliance across the organization as every task is done according to predetermined procedures set out by company policy.
This helps simplify audits, protect against legal penalties, and better serve customers who depend on accurate information.
Still More to Come…
Obviously, the aforementioned software is just a handpicked selection of tools for people like you. This list is not conclusive by any means. We will be updating our guide on business process management applications in 2023 later. Be sure to bookmark this page and revisit it a few weeks down the road.
Until then, we'd love for you to share your thoughts in the comments section below. Alternatively, you can also write to us at fwilson@ntaskmanager.com.