In this blog, we will talk about that is automated project management and the benefits of automated PM software.
What Is Automated Project Management Software?
Automated project management software is a computer application that helps managers keep track of their projects by automating certain tasks.
It can help with things like tracking progress, managing deadlines, and preventing conflicts between team members.
A good project management software with automation package will also have features to help managers communicate with their team members, track resources, and generate reports.
The Different Features Of Automated PM Software
There are various features that project management with automation software can offer, and it's important to find the right option for your needs. Here are some of the most common features:
Time tracking: This is a critical feature for ensuring that all deadlines are met and tasks are completed on time.
Project planning: It can help you plan the entire project in advance, including tasks, deadlines, and resources needed. 
Collaboration: With multiple users working on the same project at the same time, collaboration is easy and efficient.
Reporting: The software provides detailed reports to help you track progress and make informed decisions about future courses of action.
The Benefits Of Automated Project Management Software
The Benefits of automation software with PM capabilities are many and varied. In this article, we will discuss a few of the main benefits and why you should consider using it in your business.
1. Automation
They automate many of the tasks involved in managing a project, allowing you to focus on more important tasks. This helps to keep your projects on track and ensures that they are completed on time and within budget.
2. Efficiency
The tools help to speed up the process of managing a project by automating repetitive tasks. This saves both time and money, making it easier for you to manage large projects effectively.
3. Compliance
Many such automation tools offer compliance features, which help you to meet all relevant legal requirements when managing your projects. This means that you can be sure that your projects are conducted legally and ethically without having to worry about any complications or delays.
4. Offload repetitive tasks
These tools can be highly beneficial for businesses that aim to streamline their project management processes. One of the major advantages of using such software is the ability to offload repetitive tasks that consume a lot of time and resources. 
With automation, tasks such as updating task status, sending reminders, and generating reports can be done automatically, reducing the workload for project managers and team members. This helps them to focus on more critical aspects of the project and make better decisions.
By automating repetitive tasks, project management software can increase efficiency and productivity, reduce errors, and free up valuable time, ultimately leading to better project outcomes.
5. Integrations with third-party apps
One of the significant benefits of automated PM tools is the ability to integrate with third-party applications seamlessly. By integrating with other software tools and platforms, project management software can create a centralized hub that streamlines workflows, improves communication, and increases productivity.
For example, the software can integrate with team collaboration tools such as Slack or Microsoft Teams to keep everyone on the same page, and it can also integrate with time-tracking software to monitor the team's progress and budget. 
Moreover, the integration of project management software with customer relationship management (CRM) software can provide teams with a comprehensive view of their customer interactions and help them deliver better customer service. Integrating project management software with various tools reduces manual data entry, eliminates the need for multiple logins, and increases team efficiency, ultimately leading to successful project delivery.
6. Maintains Quality
Automated project management software offers several benefits to organizations, one of which is maintaining quality. The software can help ensure that all tasks and processes are completed consistently and to a high standard, reducing the risk of errors or oversights.
This is achieved through the automation of tasks and workflows, ensuring that team members follow a standardized process. Additionally, it can help to identify potential issues or areas for improvement, allowing teams to address them before they impact the project. 
By maintaining quality through automation, teams can save time and resources while delivering high-quality results. Overall, the use of software can help organizations to maintain consistency and quality, leading to better project outcomes and increased customer satisfaction.
How To Set Up And Use An Automated Project Manager?
If you're looking for an efficient and effective way to manage your projects, then an automated project manager is the perfect solution for you.
An automated project manager is a software program that can help you keep track of all your projects and tasks, as well as monitor the progress of each one. It can also notify you when things need attention, and make sure that deadlines are met.
This makes it a great tool for time-strapped entrepreneurs or business owners who need to stay on top of their workloads.
There are a few things you'll need in order to set up an automated project manager: a computer with internet access, an account with a reputable project management software provider, and enough storage space for the program's files.
Once everything is set up, simply enter your projects into the program and let it take care of the rest. You'll be able to focus on what's important – running your business – instead of worrying about mundane details like project management.
Tips For Using An Automated Project Manager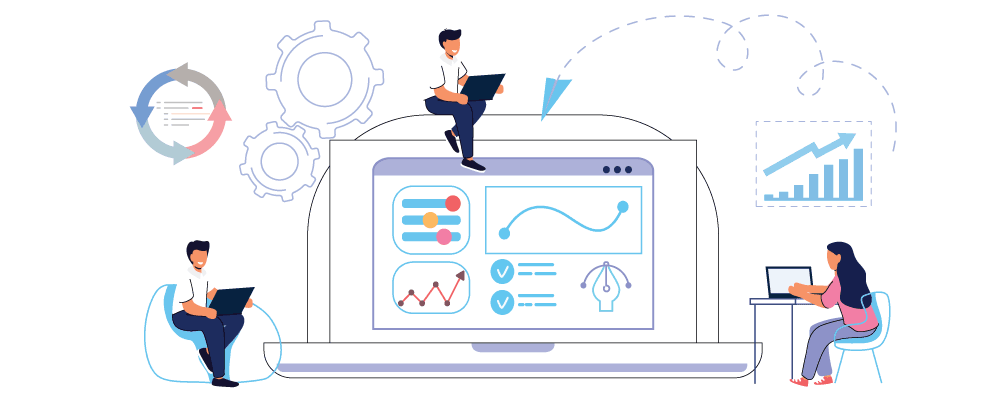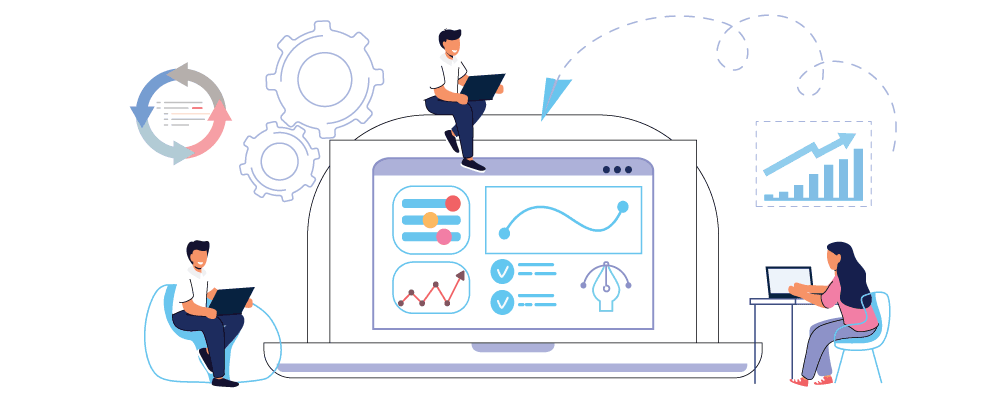 If you're looking for an efficient way to manage your projects, then an automated project manager is a great option. An automated PM can streamline the project process by taking care of a lot of the tedious and time-consuming tasks for you.
Here are some tips on how to use an automated PM:
1. Set up a baseline map of your projects. The first step is to create a baseline map of your projects. This will help you track all the important details, like timelines, resources, and milestones.
2. Use workflow diagrams to keep everything organized. Workflow diagrams are a great way to keep everything organized and on track. They'll also help you identify any potential problems early on in the project and take appropriate action.
3. Automate email notifications and task updates. Make sure that you set up automatic email notifications and task updates so that you always know what's happening with your projects. This will help reduce stress levels and ensure that you stay updated on all developments related to your work
How To Keep Track Of Your Projects?
There are a few different ways that you can keep track of your projects and deadlines.
One option is to use a project management tool like nTask, Asana, or Trello. These tools are great for organizing and tracking your tasks, as well as tracking the progress of your project.
They also offer automatic notifications so that you're always kept up-to-date on what's going on.
Another option is to use a collaborator system like Slack or Discord. This allows you to exchange messages with other team members, which makes it easier to coordinate and manage your work together.
You can also ping team members if any urgent information needs to be shared, which will help keep everyone informed and on track.
Finally, you can use a notebook app or document to keep track of everything. This is especially useful if you're working on multiple projects at the same time and need some place to store all of your notes and ideas.
You can even password-protect this document so that no one else can see it unless they know the password.
Monitoring And Troubleshooting Your Projects
Projects can be a lot of work, and it can be challenging to keep track of everything that's going on. That's where monitoring and troubleshooting come in handy.
Monitoring is the process of keeping tabs on your project and making sure that everything is running smoothly. You do this by performing regular checks to make sure that all the important aspects of your project are functioning as they should.
This includes checking for errors, ensuring compatibility between different components, and verifying the outputted data.
Troubleshooting is the process of resolving any issues that may arise during or after your project. It involves diagnosing the cause of an issue, resolving it, and documenting the steps taken so that future projects run more smoothly.
Tops Automated Project Management Software
Here are some of the top project management software that offers automation: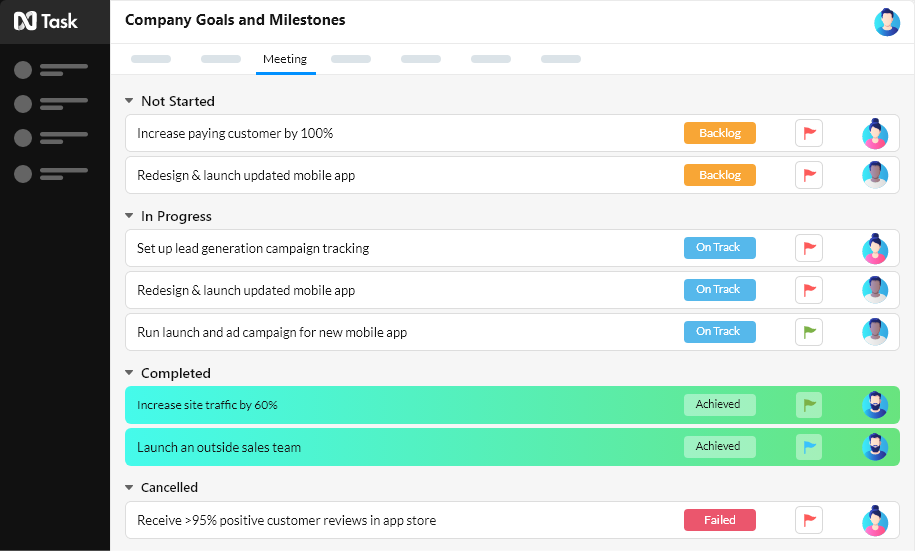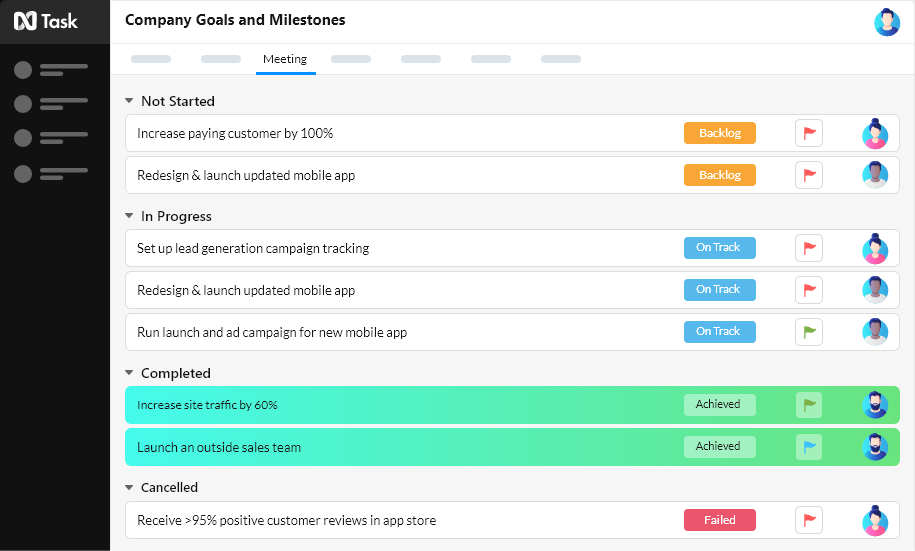 nTask is an all-in-one project management software that automates and streamlines project-related tasks. The software's user-friendly interface makes it easy for teams to collaborate and stay organized, improving their overall productivity. One of the key benefits of using nTask is the ability to offload repetitive tasks to the software, which frees up time for team members to focus on more important tasks. This includes automating task assignments, recurring tasks, reminders, and even task dependency.
Another significant advantage of nTask is its seamless integration with third-party apps, such as Google Drive, Slack, and Zapier. This integration enables teams to work with all their tools in one place, eliminating the need to switch between multiple apps. Moreover, nTask provides a centralized platform that allows teams to manage their projects, calendars, and time tracking in one place, creating a streamlined workflow that enhances collaboration and communication.
Furthermore, nTask maintains quality by providing robust features that enable teams to monitor project progress, set goals, and track performance metrics. This helps teams to identify and rectify potential bottlenecks in the project management process, thereby enhancing overall project quality. With nTask, teams can also maintain a comprehensive record of project-related data, ensuring that nothing gets lost in the shuffle.
nTask also provides easy-to-use tools for tracking progress, creating reports, and communicating with other team members. It's a powerful project management system that will help you get your projects done safely and on time – so don't hesitate any longer!
Overall, nTask automated project management application is a powerful tool that helps teams to optimize their project management process, save time, and increase productivity. Its user-friendly interface, seamless integration with third-party apps, and robust features make it an ideal solution for teams of all sizes and industries.
Automate Your Projects
With nTask
2. ClickUp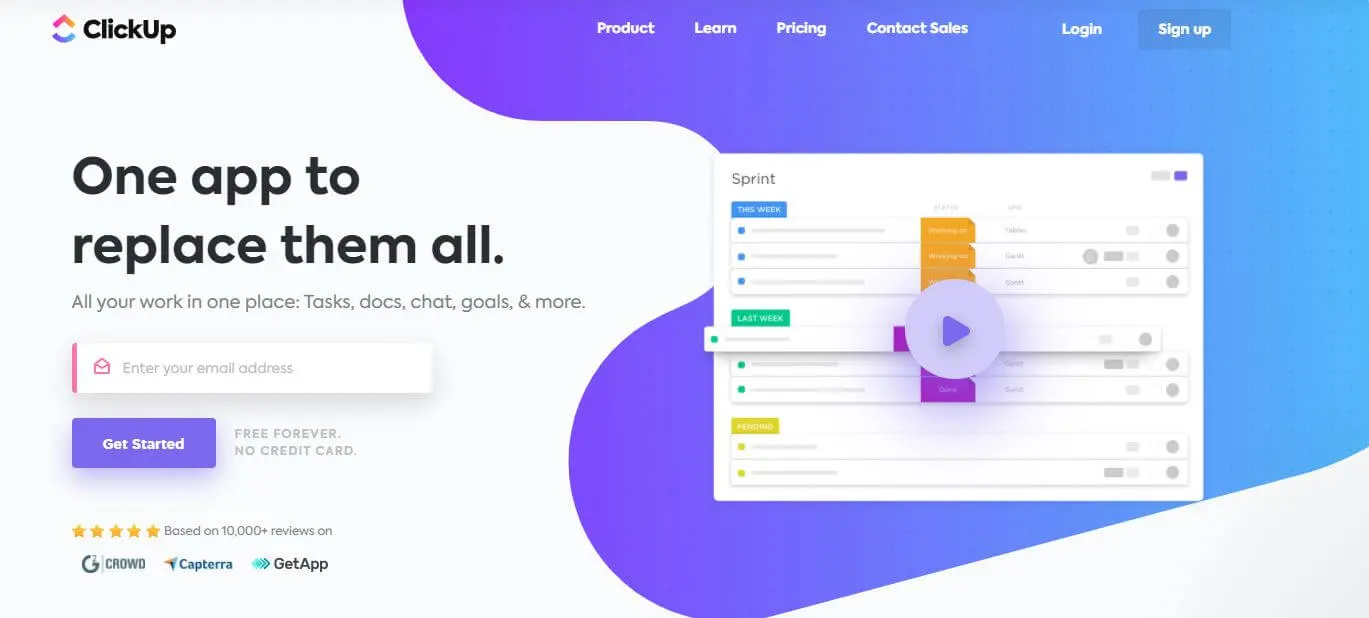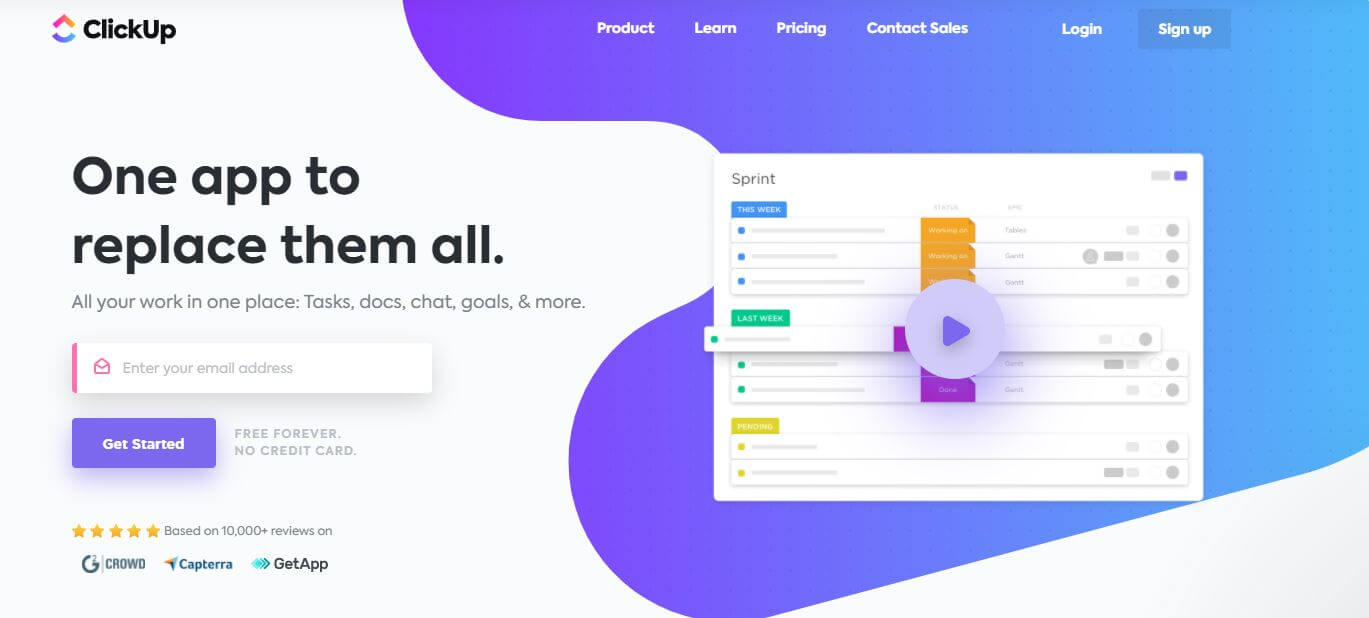 ClickUp is a powerful and comprehensive automated project management solution that enables teams to collaborate, manage tasks, and stay on top of projects more efficiently. With its user-friendly interface and robust set of features, ClickUp is a go-to platform for businesses of all sizes that are looking to streamline their project management processes.
One of the standout features of ClickUp is its flexibility, which allows users to customize their workflow to fit their specific needs. ClickUp's hierarchical task structure enables users to break down larger projects into smaller, more manageable tasks, and its advanced filtering options make it easy to sort and prioritize tasks based on urgency or other criteria. Additionally, ClickUp integrates with a wide range of third-party apps, allowing teams to seamlessly collaborate and manage projects across multiple platforms.
Another key feature of ClickUp is its automation capabilities. With automation, users can automate repetitive tasks, streamline workflows, and reduce the risk of human error. ClickUp's automation features include automating task assignments, updating task statuses, and sending out reminders and notifications. This frees up team members to focus on more high-value tasks, ultimately improving efficiency and productivity.
Overall, ClickUp's powerful set of features, user-friendly interface, and customization options make it a top choice for businesses looking to automate their project management processes and improve collaboration and productivity.
3. Monday.com


Monday.com is a highly versatile project management tool that offers a wide range of features to manage and organize your team's tasks and projects efficiently. With its intuitive user interface, you can easily create and customize workflows, track progress, and collaborate with your team in real time.
One of the key strengths of Monday.com is its flexibility. You can easily customize it to fit your specific needs, whether you're managing a marketing campaign, software development project, or sales pipeline. It offers a variety of templates and automation to streamline your workflow and save you time.
Another advantage of Monday.com is its ability to integrate with a variety of third-party apps and tools, including Google Drive, Slack, Trello, and more. This allows you to seamlessly connect and sync data between different platforms, reducing the need for manual data entry and improving overall efficiency.
In addition, Monday.com offers advanced reporting and analytics features that enable you to track progress, identify bottlenecks, and make data-driven decisions. With its powerful reporting tools, you can gain valuable insights into your team's performance, project status, and resource allocation, helping you to optimize your workflow and improve productivity.
Overall, Monday.com is a highly flexible and powerful project management tool that can help you streamline your workflow, collaborate more effectively with your team, and achieve your project goals more efficiently.
4. Wrike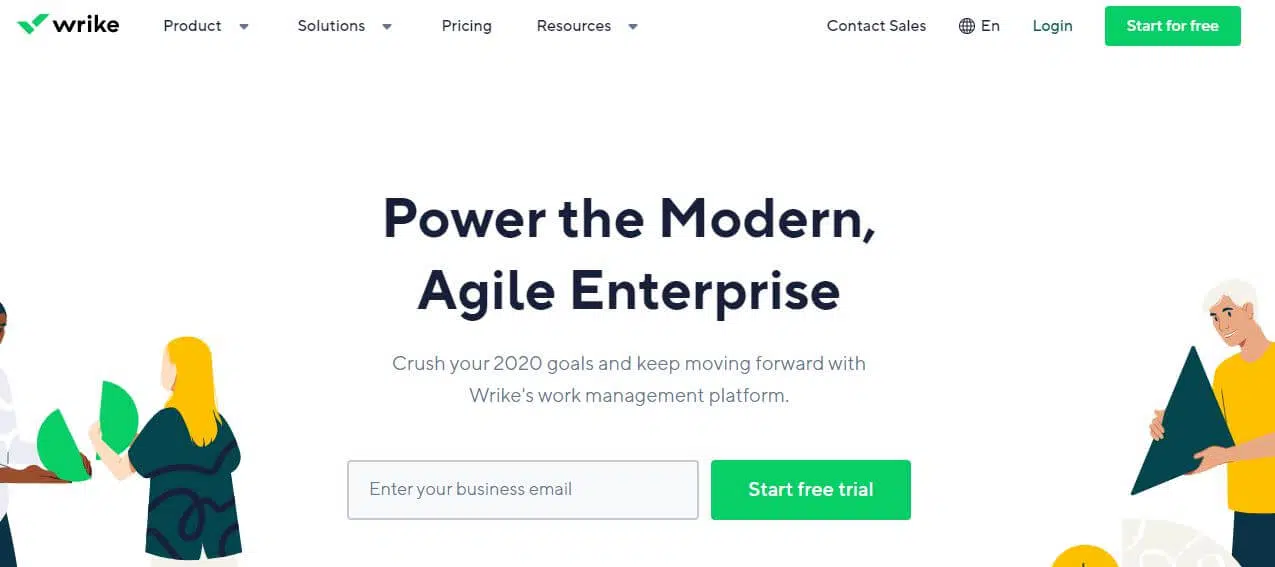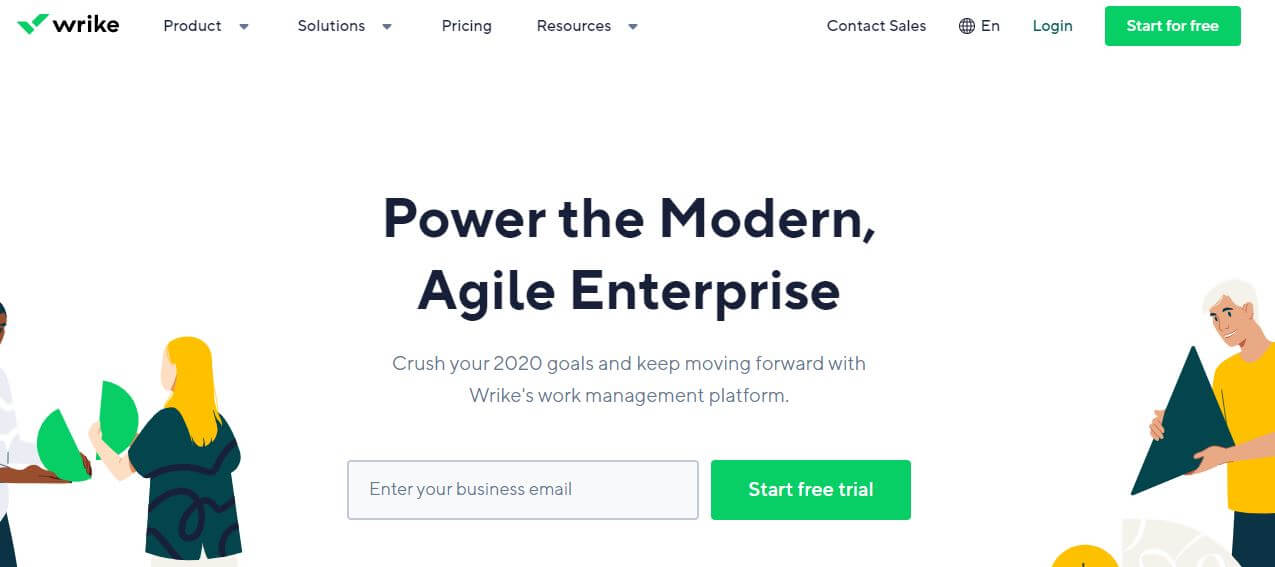 Wrike is a cloud-based project management software that provides comprehensive project management solutions for businesses of all sizes. The platform offers features such as project planning, task management, team collaboration, time tracking, reporting, and resource management. The software is designed to help teams stay organized and focused while streamlining communication and collaboration across teams and departments.
One of the key benefits of Wrike is its user-friendly interface, which makes it easy for team members to get started and navigate the platform. The platform also offers a range of customizable templates, allowing users to create unique workflows and processes that align with their specific needs.
In addition to its project management features, Wrike also offers integrations with a variety of third-party applications, including Google Drive, Dropbox, Salesforce, and Microsoft Office. This makes it easy for teams to centralize their work and streamline their workflows, without having to switch between different tools and applications.
Another important feature of Wrike is its analytics and reporting capabilities, which provide users with real-time insights into project performance, team productivity, and resource allocation. This allows teams to quickly identify areas for improvement and optimize their workflows for maximum efficiency and success. Overall, Wrike is a powerful and flexible project management solution that can help businesses streamline their operations, improve collaboration, and achieve better results.
Conclusion
Are now a part of everyone's life, you must have realized that project management is crucial. At nTask, we make it easy for you to manage your projects by providing the right tools like timetables and due dates.
All you need is an internet connection and access to our app.
Download now and get started managing your projects today! As a project manager, don't waste any more time on how to manage those pesky tasks this year. Make sure that everything falls into place with our app's new features. Download it now!