The days of manually planning your business' capacity are behind you. In today's world, automation is the key to ensuring that your business can keep up with demand. Using one of the top 4 automated capacity planning tools, you'll be able to predict your needs and ensure that you're always able to meet customer demand.

Today's businesses face many challenges, and one of the most important is ensuring that they have sufficient capacity to meet the demands of their customers. That's why it's important to use automated capacity planning tools to help you plan for future growth. Plus, these tools will help you avoid potential problems down the road. So what are you waiting for? Invest in a tool that will help your business grow!

What Is a Capacity Planning Tool?
A capacity planning tool is a software that helps businesses plan for the future and make sure they have enough resources available to meet their current and future needs.
There are multiple ways in which a capacity planning tool can help businesses: by predicting how much demand there will be in the future, by estimating how long it will take to produce a particular product or service, and by calculating the cost of adding new resources.
Though capacity planning tools can be expensive to buy, they are often worth their price tag because they allow businesses to make informed decisions about their investments and growth. In addition, different capacity planning tools are better suited for different types of businesses. So if you're not sure which one would be best for you, then it's best to consult with an expert.
How to Choose a Capacity Planning Software?
Choosing the right software to help with capacity planning can be a daunting task. There are so many options available, it can be hard to decide which is right for your business. We will take you through the different factors to consider when choosing capacity planning software, and help you choose the option that is best for your business, alongside primary objective of an ERP system.
Software Cost: The cost of the software will obviously be a major factor. You want to make sure that the price you pay is justified by the features and functionality that the software offers.
Ease of Use: Another important consideration is how easy the software is to use. You don't want to spend hours trying to figure out how to use it or dealing with glitches and other issues.
Features and Functionality: You also want to make sure that the features offered by the software are fit for your needs. Are there specific features that you need? Are there any limitations on the features?
Software Versatility: Do you plan on using this capacity planning software for multiple purposes? If so, make sure it's versatile enough to handle those tasks.
Customer Support: Is the company behind the capacity planning software reliable and available when you need them? That includes both technical support and customer service.
User Compatibility: Will this capacity planning software work with all your devices and systems?
Top 4 Capacity Planning Tools in 2022
Let's take a look at the top 4 automated capacity planning tools that you can use for your business.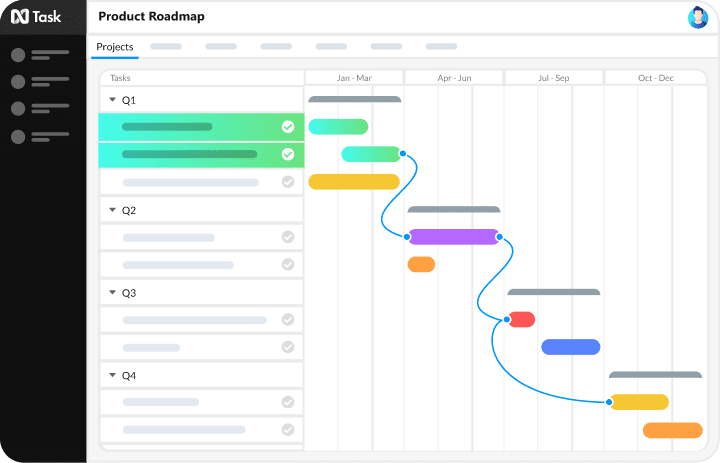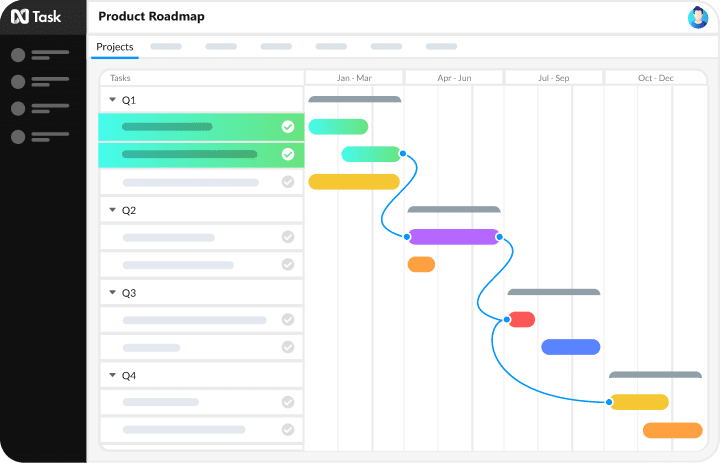 nTask capacity planning software is a tool that helps organizations plan their resources and manage their workloads. It allows you to estimate the capacity of your systems and make informed decisions about how to allocate your resources most effectively.

One of the main benefits of using nTask is that it can help you avoid bottlenecks and ensure that your systems are able to handle whatever workloads are thrown at them. This can save you money in the long run because it will prevent system crashes and other negative consequences.
Key Features
Auto-generated reports provide a snapshot of your organization's current situation and how it is changing over time.
Predictive analytics helps you identify potential threats and opportunities and forecast future trends.
Flexible resource allocation tools that allow you to decide where to allocate your resources most effectively.
Assistance in setting up grant programs, budgeting, and preparing forecasts.
Pricing
nTask offers a free 7-day trial for all its users, while the pain plans include,
Premium at $3/month
Business at $8/month
Enterprise at Custom pricing/month
2. Resource Guru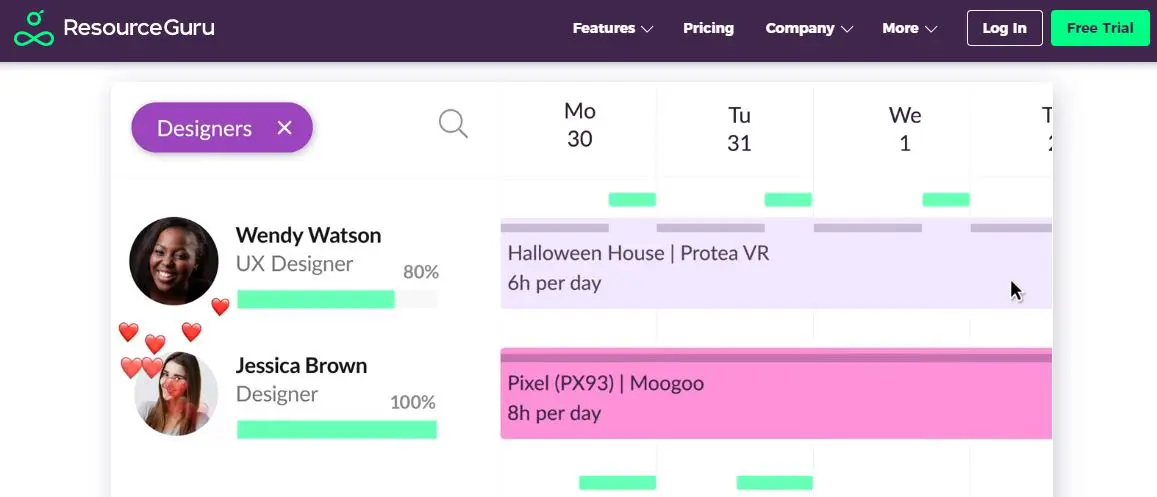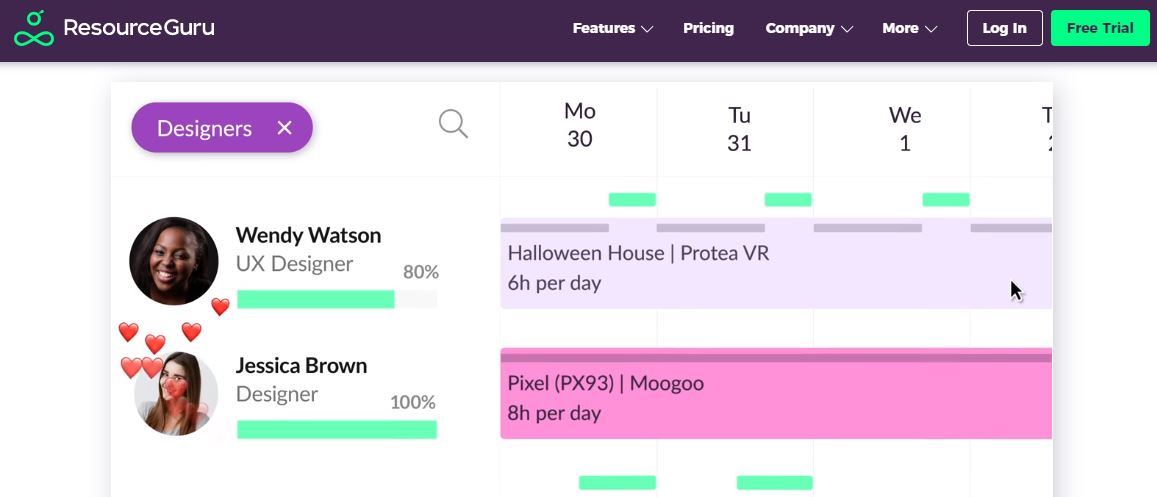 Resource Guru is a capacity planning tool that helps businesses and organizations plan for the future, by estimating how many resources they will need in the future and planning for when those resources will be needed.
Resource Guru also provides insights into the cost of various employee roles, so businesses can make informed decisions about where to allocate their resources. This allows them to avoid overspending on unnecessary employee roles or functions, while still addressing future needs.
Key Features
Evaluate how efficiently your current resources are being used, and make adjustments to ensure that you're using them to their fullest potential.
Plan for future growth by estimating the requirements for new skills or equipment.
Navigate through different scenarios to see how changes in resource availability will affect your business.
View your company's resources in terms of skills, experience, and equipment.
Pricing
Resource Guru comes with a 30-day free trial, while the paid plans include,
Grasshopper $3/user/month
Blackbelt $5/user/month
Master $8/user/month

3. ClickUp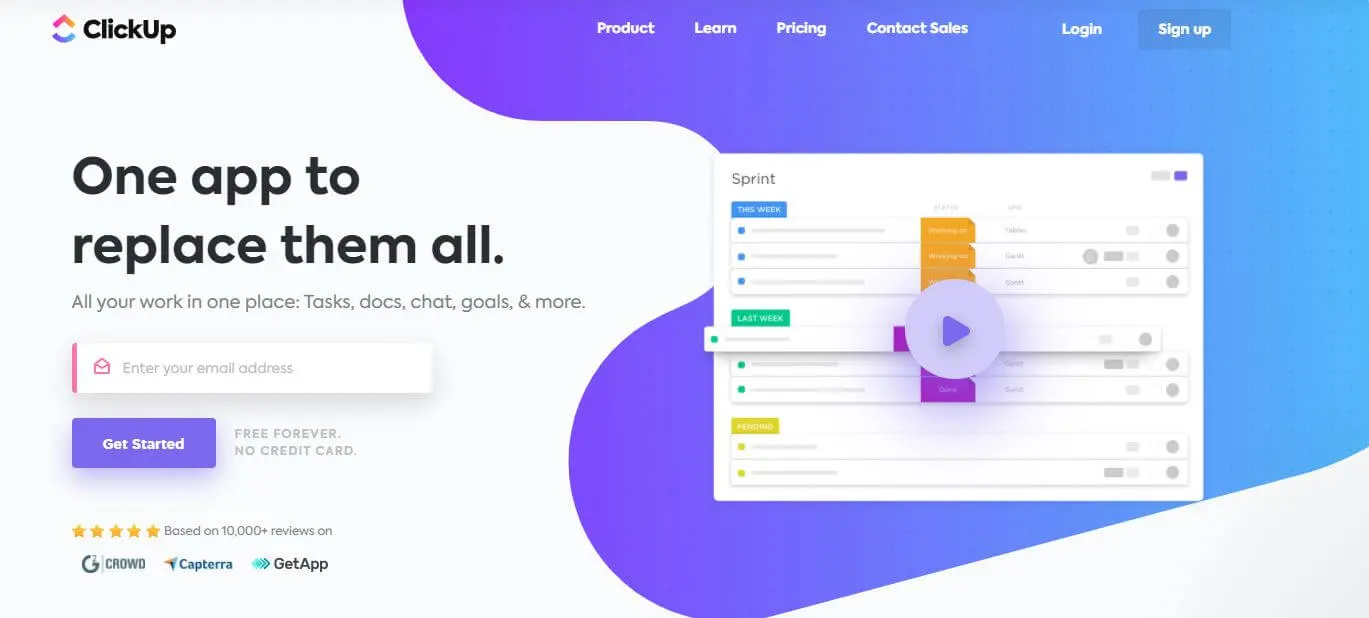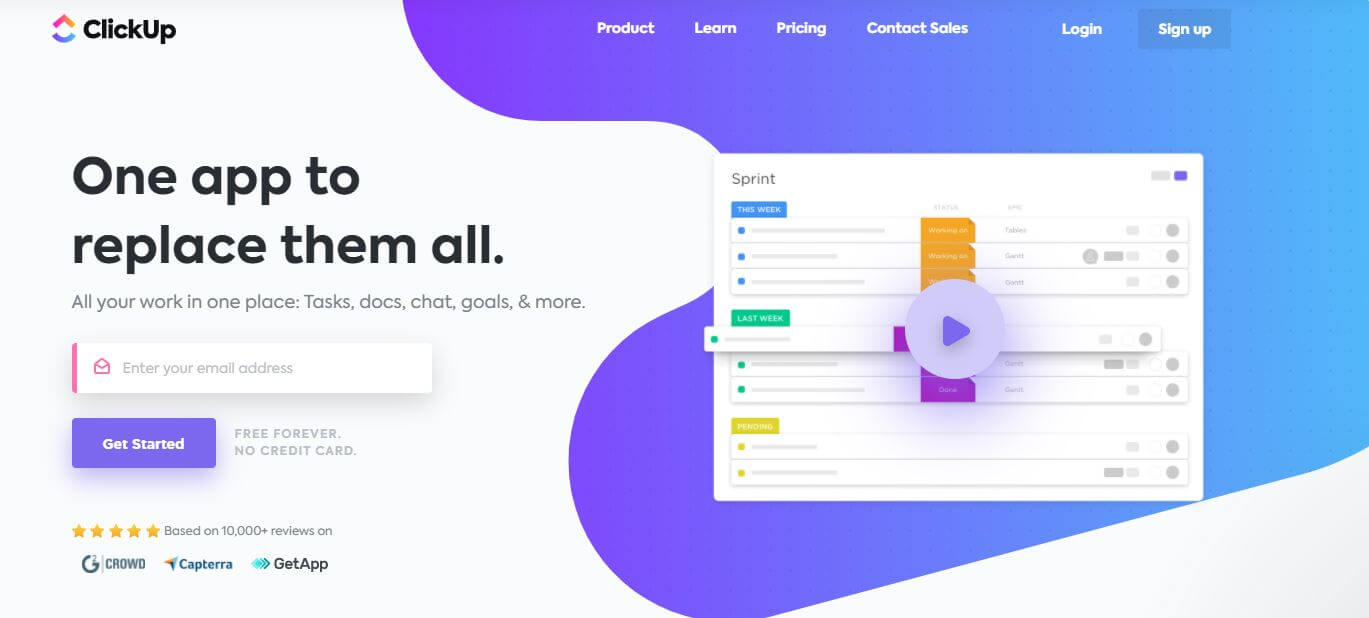 ClickUp capacity planning software is a tool that helps businesses plan for future growth. It does this by estimating the amount of traffic that a website or blog will be able to handle in the future, based on past trends and data.
ClickUp capacity planning software is an invaluable tool for businesses of all sizes, as it can help them anticipate changes in the market and plan for them accordingly. It can also help them avoid any costly mistakes or disruptions down the road.
Key Features
Comprehensive analysis of your current workload and resources to determine how much work can be processed at any given time
Management of projects and tasks so that they are completed on time and without disruption
Automatic notification of employees about changes in project deadlines or workloads, so that they know what to expect and can adapt accordingly
Pricing
Unlimited $5/user/month
Business $12/user/month
Business Plus $19/user/month
4. IQMS ERP Software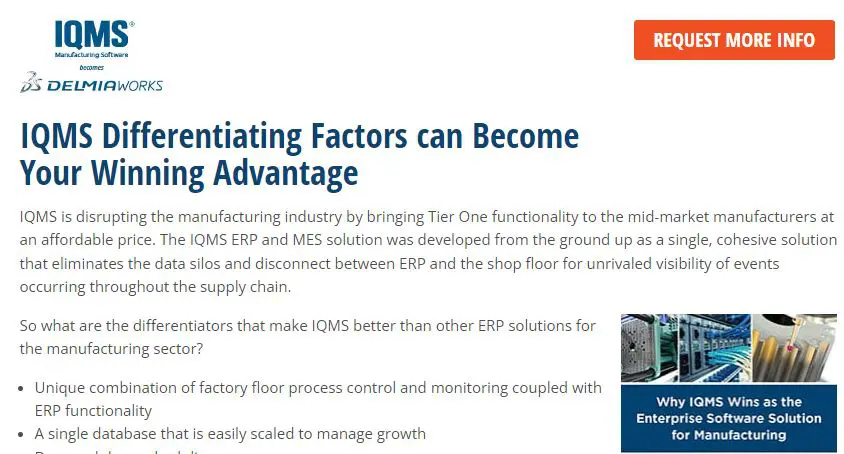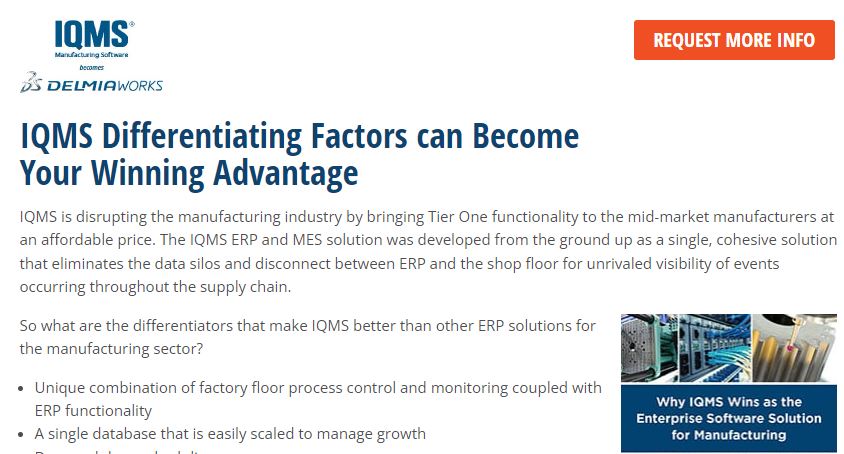 IQMS ERP Software automated capacity planning tool is a software that helps organizations plan and optimizes their resources. It helps them configure and manage the systems so that they can effectively meet customer demand while minimizing costs.
IQMS ERP Software's automated capacity planning tool allows organizations to identify and analyze their current resource requirements, compare those against projected demand, and make necessary adjustments to meet both goals. It also allows them to forecast future needs based on past performance, identify bottlenecks in system performance, and recommend solutions to alleviate them.
Key Features
Forecasting – You can use the software's prediction engine to estimate future requirements based on past trends and data analysis.
Capacity analysis – This allows you to assess the current and future needs of your business, and find out where you're running low on resources.
Planning – The tool provides detailed guidance on the best use of your resources, based on your specific industry or business model.
Pricing
Contact for customized pricing.
The importance of using capacity planning software
Capacity planning is one of the most important steps that you can take when planning for your business. It ensures that you have enough resources to handle the increased demand that's likely to come your way in the future.
There are a few reasons why using capacity planning software is so important:
It can help you predict how much demand you'll have and plan for how you'll meet that demand.
It can help identify potential problems early on, so you can address them before they become big problems.
It can help ensure that you don't run out of resources and end up hurting your business in the long run.
It allows you to budget for growth and make sure that your investments are going to be beneficial to your business.
Frequently Asked Questions (FAQs)
What are the benefits of capacity planning?
Capacity planning is one of the most important steps that you can take when it comes to managing your business. By understanding how much capacity you need and where that capacity will come from, you can avoid potential disruptions or Fires. Additionally, by establishing realistic marketing and sales goals, you can ensure that your company remains profitable while meeting customer demand.
A lack of CapacityPlanning could lead to long wait times for service or product deliveries, high inventory levels due to shortages of specific items or services, and even decreased productivity as employees are forced to work in excess of their schedule requirements due to overcrowding. In short, proper Capacity Planning ensures a smooth running business with minimal stress on everyone involved.
What are the types of capacity planning?
Capacity planning is the process of forecasting and managing your company's future needs. This includes estimating how many customers, products, resources, or employees will be needed in the near future to meet customer demand.
The top three types of capacity planning include:
1. Product capacity planning
2. Workforce capacity planning
3. Tool capacity planning
What is capacity planning in Agile?
Capacity planning can be an important part of the agile process, especially when it comes to projects that have a certain amount of stakeholders. By understanding how many people will be working on the project at any given time, you can ensure that all parties are able to get their needs met and remain productive.
In addition, capacity planning allows for effective communication between team members because everyone knows what resources they need in order to complete their tasks smoothly and on time. Lastly, proper rotation of employees can help avoid burnout and keep everyone fresh and motivated throughout the entire project timeline.
You May Also Like: