If you're looking for an efficient and user-friendly project management app, nTask is your best option. nTask is appreciated and used by businesses for its comprehensive features and its intuitive design. It's easy to find the information you need, and the app is easy to use – even for beginners.
Plus, nTask offers some great features that other project management apps like Asana or SmartSheet don't, such as dashboards and integrations with other tools. If you're looking for a top-notch PM app, nTask is the perfect choice for you.
What Is a Project Management App?
A project management app is a software application that helps managers manage projects. It allows users to track and manage tasks, schedules, resources, finances, and communication. A project management app can be helpful for small businesses that need to collaborate on projects with multiple teams or individuals, as well as large companies that are undertaking complex initiatives.
It can help track deadlines, assign tasks to team members, and keep track of progress. Some popular project management apps include nTask, Spreadsheet, Monday.com, Asana, Trello, Basecamp, and JIRA.
How does it work?
A project management app helps you take control of your projects and ensure that they are carried out successfully. It provides a system for tracking all the tasks involved in a project, as well as communicating with team members and clients. It also makes it easy to stay on top of deadlines, manage resources efficiently, and resolve any conflicts that may arise.
The app lets you track the progress of each task, keep track of costs and budgeting, and monitor communication between team members. You can also create reports to show how your project is going overall.
Project management apps are especially useful for large-scale projects where coordination between different teams is necessary. They can also be helpful when dealing with clients who may have multiple demands on the project at different stages.
Features to Look for in Software Project Management Tools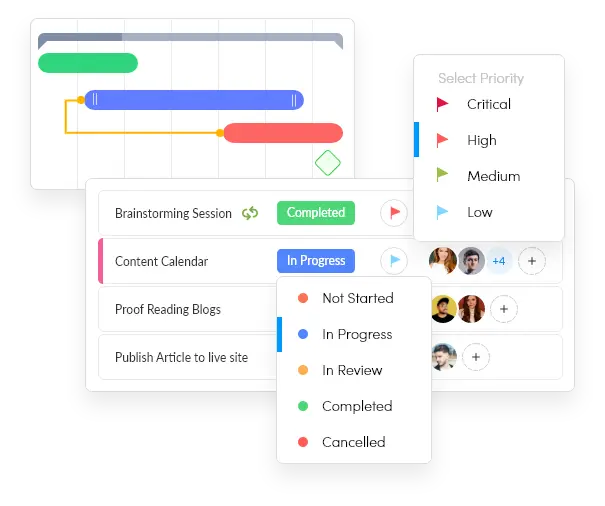 Some of the top features to look for in a project management tool are as followed, also offered by nTask task manager:
Gantt charting is a timeline visualization tool that allows you to see your project's progress and changes over time.
Resource allocation is a feature that helps you decide who should work on which tasks and when.
Work breakdown structure (WBS) is a method used to identify all the tasks and their relative importance so that you can plan your work accordingly.
Critical path analysis (CPA) helps you determine how long it will take to complete your project, based on past experience and current conditions.
Cost tracking allows you to track your expenses as they relate to your project goals.
Time-tracking and calendar to keep track of the project progress and deliver timely submissions.
What Software Is Best for Project Management?
Yes, nTask is the best software for project management! It offers a user-friendly interface that allows you to manage your projects with ease. Plus, it has several features that make it an excellent choice for project managers. nTask can help you track progress and deadlines, create task lists and milestones, assign tasks and resources, keep track of files and versions, and much more.
nTask allows you to track all your tasks and deadlines in a centralized location, so you can easily see what's left to do and when it needs to be done. You can also assign different resources to different tasks, which makes sure that everything gets completed on time. nTask is also cloud-based, so you can access it from any computer or device with internet access.
What are the main features of nTask project management app?


Let's take a look at some of the top features of nTask as a project management app,
1. Task management
Task management is an essential part of any project manager's toolkit. Whether you're using a desktop software application or a cloud-based solution, task management is essential for keeping track of your tasks and managing the deadlines associated with them.
2. Time-tracking & Timesheet
Time tracking is an important part of project management, and it's particularly helpful when tracking time spent on different tasks. Time-tracking software can help you keep track of the total amount of time that you have spent on each task, as well as the corresponding duration. This information can be useful in estimating your workload and reviewing past work accordingly.
3. Issue Tracking
Issue tracking is a critical part of project management software. It helps you keep track of the progress and status of all your projects, and it allows you to identify and fix problems early on in the process.
There are a few different types of issue-tracking systems, but they all have some common features. They all allow you to add issues, track their resolutions, provide notifications when new issues are created or resolved, and keep historical data for trend analysis.
4. Gantt Charts
Gantt charts are a popular project management tool that can be found in many different software programs. A Gantt chart is a visual representation of the progress of a project. It shows the various tasks that need to be completed and the estimated dates for when they will be finished. This information can help managers stay organized and on track, as well as make better decisions about how to allocate resources.
5. Team Management
Team management is an important part of project management software. It helps ensure that team members are working together as a cohesive unit and that projects are completed on time and within budget.
There are many different aspects to team management, including setting clear and realistic goals, assigning tasks and responsibilities, monitoring progress, troubleshooting problems, and providing feedback. By using this type of software, project managers can easily manage their teams' workflow while ensuring that all deadlines are met.
Why is nTask the best choice for businesses seeking a project management app?
nTask is the best choice for businesses seeking a project management app because it offers an intuitive and user-friendly interface, superior tracking capabilities, and flexible reporting options. Plus, its team of experts is available 24/7 to help you get the most out of your project management system.
It offers an extensive range of features that make it perfect for managing both small and large projects. Its easy-to-use interface makes it ideal for anyone with minimal experience in project management, while its wide range of features allows businesses to manage virtually any type of project. Plus, the helpful support team is available 24/7 to help you get the most out of nTask.
How does nTask compare to Asana and SmartSheet in terms of features and usability?
In our recommendation, nTask is a better choice than Asana or SmartSheet due to its usability such as,
1. nTask is designed for modern teams
nTask is a project management software that was designed with modern team dynamics in mind. It provides users with an intuitive interface and powerful features, such as task tracking, resource allocation, defect resolution, and communication tools. Its cloud-based platform makes it easy for teams to access from anywhere on the web.
2. nTask Allows Better Communication
nTask is an app that allows better communication as a project manager. nTask helps team members stay organized and connected, making it easier to track assignments and tasks, monitor progress, and communicate with other team members.
3. nTask Is Fully Customizable
nTask is a project management tool that is fully customizable. This means that you can create your own templates and settings, which makes it perfect for any type of project. nTask also has several features that make it an excellent choice for business owners or entrepreneurs. These include its drag-and-drop interface, checklists, and deadlines, as well as its ability to share projects with other users.
Challenges with Smartsheet vs Asana
When it comes to creating and managing tasks, both Asana and Smartsheet offer a number of advantages. However, there are a few challenges that users need to be aware of if they want to make the most of these software products.
One challenge that users face with Asana is its complexity. It can be difficult for first-time users to understand how everything works, and there are often a lot of complex features that go beyond the average user's needs. This makes it difficult for them to get the most out of the software.
Another challenge that users face with Asana is its wide range of features. While this can be beneficial in some ways, it can also be confusing and overwhelming for those who are not familiar with all of them. This can lead to frustration and abandoned attempts at using the software.
Finally, Smartsheet has an advantage over Asana when it comes to its pricing structure. While both software products offer similar features and functionality, Smartsheet charges a lower price than Asana does – which may be an attractive option for some users.
Smartsheet vs Asana Vs nTask : Choosing The Right Tool
When it comes to workplace productivity, there are a few tools that come to mind. Smartsheet, Asana and NTask are all popular options that can help you manage your tasks, calendars and files more easily.
Each of these tools has its own strengths and weaknesses, which you need to consider before making a decision. Here are some key factors to take into account:
Smartsheet is known for its easy-to-use interface and comprehensive features. It's also stable and reliable, which makes it ideal for larger businesses or teams that need a lot of flexibility and control. However, it may be too cumbersome for people who just want to quickly get things done.
Asana is known for its user-friendly design and focuses on collaboration. It also has features that make it ideal for tracking projects, managing deadlines and tracking progress. However, it can be difficult to find the right time slot for your task if you have a large number of them waiting in line.
nTask is designed specifically for workflow automation. It's fast and efficient, making it great for handling multiple tasks at once. However, it may not be as user-friendly as the other two options.
Which specific tasks or projects can users manage with ease using nTask?
With nTask, users can complete a variety of tasks with ease. These include time management, project management, and data entry. nTask is perfect for anyone who struggles with managing their time or completing certain tasks on their own. It provides simple and straightforward tools that allow users to focus on the task at hand without having to worry about unnecessary details.
nTask also offers customizable features that make it easy for users to tailor the platform to fit their specific needs. This makes it ideal for those who need help organizing their files, completing complex projects, or tracking daily progress.
There are no limits to what using nTask can do! Give it a try today and see just how helpful it can be in your personal life and professional career
FAQs
Why is Smartsheet so hard to use?
Smartsheet is a software that helps you manage your business and work smarter. However, many people find it to be extremely difficult to use.
Part of the problem may be that Smartsheet is designed for professionals who are already experts in their field. If you're not familiar with how business works or if you don't have any experience with spreadsheets, then it will be hard for you to use Smartsheet effectively. Furthermore, the interface is also cluttered and confusing, which can make it difficult to understand what's going on.
If you're serious about using Smartsheet to its full potential, then you'll need to invest time in learning how it works. There are plenty of resources available online that will teach you everything from the basics to more advanced concepts. Once you know the ropes, using a Smartsheet will be a lot easier and more productive!
What are the disadvantages of Smartsheet?
There are several disadvantages to using Smartsheet, the most common of which is that it can be difficult to use. It's also expensive and requires a subscription fee.
Another disadvantage is that it's not very user-friendly. You may find it difficult to navigate, and there are no helpful tutorials available. In addition, it can be difficult to work with complex data sets.
Finally, Smartsheet is not very secure. It's possible for users' data to be hacked or stolen, and this could lead to financial damages for them.
Can Smartsheet be used offline?
Yes, Smartsheet can be used offline. This is great if you need to work on a project away from an internet connection, or if you're traveling and don't have access to an internet connection. You can still access your data and files, and you'll still be able to run your reports and analyses.
Conclusion
At the end of the day, poor project management has led to many organizations losing big projects. To avoid such situations in the future, businesses should focus on adopting an efficient project management app like nTask. This will help them keep track of all their ongoing and new projects with ease.
You can also explore other tools that can increase your productivity when managing your projects efficiently!