As we know that the most important resource in the resource pools of our companies is a good employee. Roughly 250 applicants apply for a job opening in a company, daily. So it is a good time for us to discuss some of the best applications to track those applicants.
The truth about applicant tracking is that it is an extremely tricky affair. On average, less than half of the percentage of the applicants that apply for jobs meet the requirements of the company or the job role, and nearly 70% of the total workforce is not actively searching for employment.
Which leaves us with a small percentage to play with, and play with them we shall.
In this article, we are going to talk about the best applicant tracking applications that are capable of helping managers all over the world, to find the perfect candidate for the job that they posted on the market.
12 Top Applicant Tracking Software
Here is a list of the different applications that we are going to discuss in this article.
Table of Contents
Top Applicant tracking apps for 2023
Let's take a look at all of these applicant-tracking applications in detail and find out how they can be helpful to us in making better staffing decisions.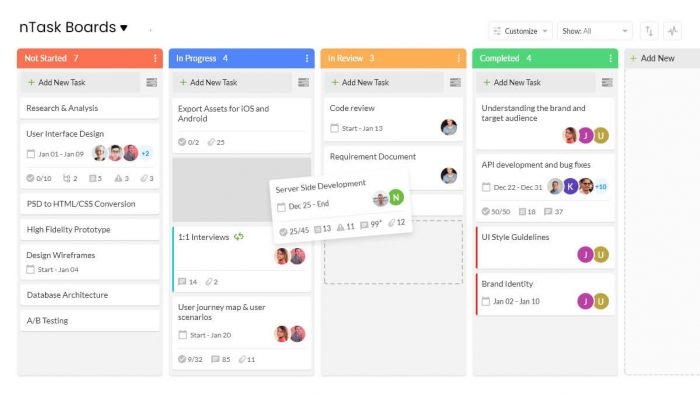 One of the best project management applications that you can use to track all of the applicants that you want to recruit for the project development processes is nTask. The application has an impressive interface where you can track your employees and their tasks and processes.
You can also perform Gantt charting, risk management and issue tracking related to all of the applicants that you think are going to be a perfect fit for your team, and you want to make sure that every issue related to them is fixed before they become a part of your company.
Key Features
Meeting Management
Task Management
Risk Management
Issue Tracking
Gantt Charting
Pricing
Basic free plan
14-day free trial for Premium and Business plan
The Premium plan starts at $3/month
The Business plan starts at $8/month
nTask is the best applicant tracking app.

Manage tasks, resources, teams, and timesheets all in one place. Sign up today!
2. Manatal

Manatal is an intuitive applicant tracking system that allows you to seamlessly keep track of all of the entries that the company is generating regarding applicants. The application uses machine learning and artificial intelligence to streamline the recruitment process and for an easy onboarding process.
Key Features
Automated Candidate Scoring
Advanced Search
Social Media Recruiting
Candidate Contact Information Export
Integration with Gmail, MailChimp, and LinkedIn
Customizable Structure
Quick Keyword Search
CV Management
AI-Based Recommendations generated on the basis of Artificial Intelligence
Available in 90 Languages
Pricing
The application's most affordable pricing plan is about $15/user/month which will get you started with the application. But if you want a bigger package for your bigger company then you need to pay $35/user/month
If you want a custom plan for your team according to your needs and requirements, then you have to contact the company
3. BambooHR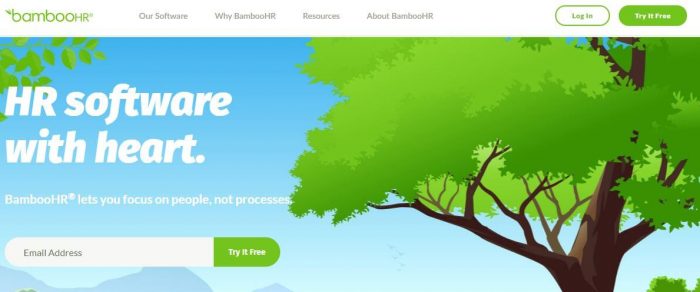 BambooHR is one of the greatest applicant tracking applications in the world right now. The application makes the hiring process quite easy for the recruiters and helps them to find the best possible talent for the job that they posted.
While using BambooHR, the tool is going to help you with a barrage of different features that are extremely useful for improving communication, tracking, and eliminating all of the bottlenecks that haunt the hiring process, and also makes sure that no talented applicant slips through your fingers.
Key Features
Custom Workflows
Customizable Email Templates
Social Media Recruiting
Reporting and Analytics
Available on Desktop and Mobile
Shareable Job Postings
Message Scheduling
Built-In Team Collaboration
Quick Approvals
Custom Offer Letter Templates
Pricing
BambooHR doesn't offer pricing plans based on the needs of everyone, so if you want a paid pricing plan for your team that will help you in fulfilling your needs and requirements, then you should contact the company, so they can custom tailor a pricing subscription for you
4. JazzHR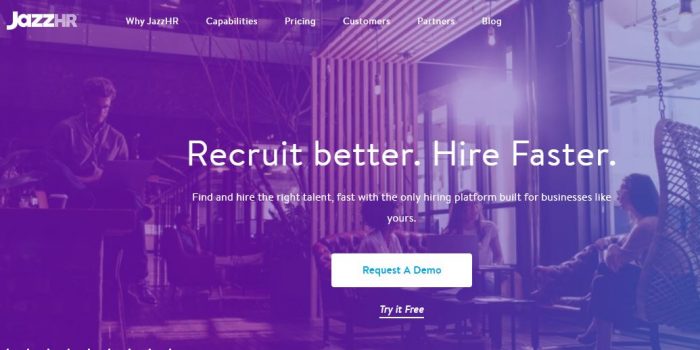 Another amazing applicant tracking software on the list is JazzHR. The application is the perfect tool for staffing agencies and internal hiring processes that streamline the process of hiring and helps the company grow its resource pool with minimal effort.
Key Features
Social Media Recruiting
Candidate Categories
Reusable Message and Email Templates
Access to Dozens of Free and Paid Job Boards from all over the world to find the best candidate
Custom Workflows
Quick Screening
Team Collaboration
Email Sync
Third-party integrations with applications like Salesforce, Monster, JobTarget and CareerBuilder etc.
Pricing
There are three different plans of this amazing applicant tracking software and the most affordable one that you can get without the full feature set is $39/month
Check this out:
6 Best Automation Tools for Professional Services in 2023
5. Zoho Recruit

Zoho Recruit application is an incredible applicant tracking software that allows you to manage the recruitment process end-to-end. The application helps you track different talents pretty quickly, interview them and make evaluations based on those interviews, all from the interface.
Key Features
Automated Workflows
Smart Searches
Resume Parsing
Email Marketing and Campaigns
Mobile Recruiting
Multi-Channel Candidate Sourcing
AI-Based Features
Bulk Actions
Customized Offer Letter Templates
Advanced Recruit Analytics
Pricing
Zoho Recruit has three different pricing plans to fulfill your needs and requirements, and the most affordable one is priced at $25/user/month
6. Infinity

Infinity is an incredible application tracking tool that can help your Human resources department to bring ease and improvement to the process of growing their teams and different businesses around the world.
Key Features
Customizable attributes
Infinite structure
Different views to view the information on the interface
Templates to help you get started
Custom forms
Document management
Third-party integrations
Different sorting mechanisms to find what you want
Pricing
There is only one pricing plan that infinity offers and it's good for 10 people. Priced at $249/lifetime
7. Workable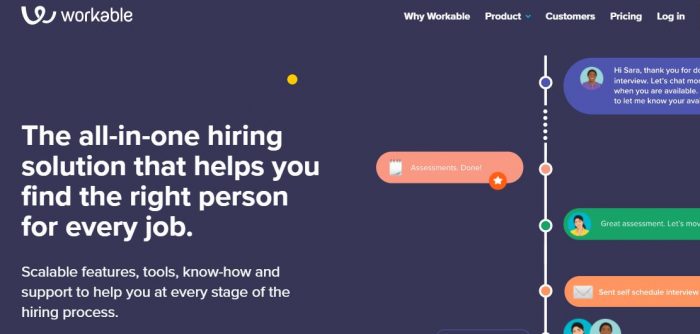 Workable is a great application tracking software that brings ease to the process of managing compliance and makes sure that all of the applicant interviews are scheduled automatically and the HR is getting approvals seamlessly.
Key Features
More than 700 Job Description Templates
Artificial Intelligence Powered Candidate Recommendations
Passive Candidates Outreach
One-Way Screening
More than 70 different Integrations with Hiring and HR Tools
Access to over 200 Job Boards
Customizable Pipelines
Social Recruiting
One-Click Interview Scheduling
Advanced Reporting and Analytics
Pricing
Workable has a paid pricing plan that can help you fulfill your requirements if you are a mid-tier company (priced at $99/month)
The company also offers a custom subscription for small and enterprise-level companies, but you will have to contact the vendor for a custom quote
8. Bullhorn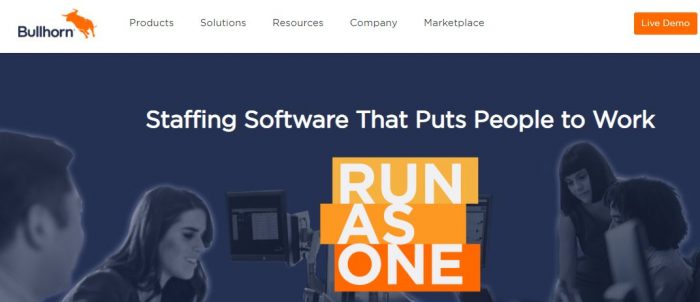 Bullhorn is a robust applicant tracking tool that allows you to interact with any and every applicant that you need to contact to get the right candidate for the job. Let's take a look at some other features that Bullhorn has to offer.
Key Features
Keyword Searches
Interview Scheduling and Tracking
Reporting Dashboard
Mobile Recruiting
Automatic Candidate Tracking
Parse and Edit Resumes
Passive Activity Tracking
Real-Time Candidate Records Update
Email and LinkedIn Integrations
Pricing
Bullhorn has many different CRM plans and other features which you can get for a custom quote provided by the members according to your needs and requirements
9. Smart Recruiters

Smart Recruiters can easily amplify all of your talent tracking efforts and makes sure that all of the advertising budgets are optimized and all of the best candidates in the market are tracked.
Key Features
Interview Scores
Candidate Filtering and Saved Searches
Team Collaboration
Mass Actions
Historical Message Tracking
Candidate Statuses
Sourcing Dashboard
Up-to-Date Candidate Information
Scheduled Notifications
Template Library
The application can be integrated with LinkedIn, DocuSign, and Other HR Systems
Pricing
The pricing plans of these incredible applications depend on the number of employees that you have. Once you have that number, call the vendor so that they can custom create a subscription for you according to your needs and requirements
10. Recruiterbox

Recruiterbox is another great applicant tracking software that helps you to find the best candidates for the job and drastically improves the candidate-finding experience.
Key Features
Resume and Talent Management
Customized Questionnaire Forms
Candidate Screening Tools
Interview Scheduling
Advanced Reporting
Career Site Management
Duplicate Detection
Email Templates and Filters
Classified Hiring
Collaborative Communication
Pricing
They don't have any public pricing plans out there for the general customers. If you want a price quote, then you have to contact the company so that they can create one for you according to your needs and requirements
11. Picked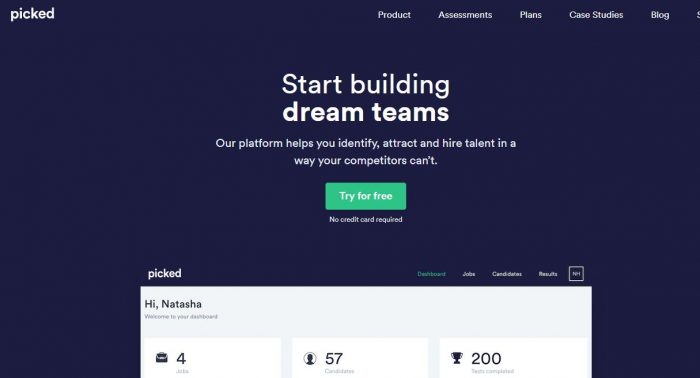 Streamline your hiring with a platform that does the hard work for you. Picked uses interactive assessments, predictive analytics, and workflow automation to remodel the selection process making it faster, cheaper and bias-free.
Key Features:
Applicant tracking
Talent assessment and skill tests
Talent sourcing
Talent management
Task automation
Pricing:
Basic: 5 Free tests
StartUp: £79 per month
SMEs: £159 per month
Enterprise £399 per month
12. Recruiterflow


Recruiterflow is an innovative applicant tracking and recruitment CRM software for staffing and recruitment firms. With their chrome extension, you can now source candidates, nurture new connections to get the best talent in the door, deliver a superior candidate experience, and manage clients with powerful recruiting automation. Recruiterflow is designed for simplicity and efficiency. On average, customers increase their placements by 15% and save at least 5 hours daily by using this recruitment agency software.
Key Features
Applicant Tracking
Assessment Management
Background Screening
Candidate Management
Candidate Tracking
Careers Page
Recruiting CRM
Customizable Branding
Email Marketing and Interview Management
Interview Scheduling and Job Posting
Lead Management
Pricing
Growth Plan $99 per month, per user – All the essentials for small 1-3 person recruiting teams. Simplest to get started with.
Scale Plan $109 per month, per user – Enable your team with all the tools they need to succeed. Best Suited for mid-sized recruiting teams.
Enterprise Plan $129 per month, per user – Run a tight ship. Best suited for large recruiting teams that want control
What advantages does applicant scoring software offer?
The fact that applicant tracking systems—or generally speaking, recruiting software—keep rising in popularity among companies is not pure coincidence. They relieve hiring teams of a significant amount of pressure and offer them more time to concentrate on engaging with candidates and selecting them.
Among the main advantages of applicant tracking systems are:
A rise in efficiency and productivity while employing, especially at scale
Faster scheduling and communication, especially in remote and hybrid work contexts, will improve the applicant experience.
Having access to many job boards and being able to manage all applications in one place
An enhanced employer brand that draws excellent candidates
Reports and data that are useful for enhancing the hiring process
Easier adherence to recruitment-related laws.
Is Applicant Tracking Software Valuable for Businesses?
Simply said, absolutely. An application tracking system or recruitment software will be immensely helpful to everyone involved in recruiting, including business owners, hiring managers, and recruiters when creating teams.
Take an example of a bullhorn applicant tracking system, it offers you everything that you would need for a better recruiting system. An ATS can aid in the hiring process time and cost optimization, whether they are making their initial few employees or expanding their organization by adding team members.
Conclusion
These were our top picks for the best applicant tracking software out there. If you think that we missed some important software, then write to us at fwilson@ntaskmanager.com and we will look into it ASAP.