If you are new to project management, the multitude of diverse methods, such as the concept of agile vs scrum, may be too intimidating. After all, project managers are responsible for various tasks and activities regularly.
For the projects they oversee, project managers are responsible for developing an effective project plan and any necessary backup plans. They are in charge of identifying and managing risks related to their projects. They must ensure that projects adhere to their different limitations. The list goes on and on.
However, before you get into the specifics, you must choose the best project management strategy to direct your efforts and see your project through to completion.
Agile and Scrum are two project management approaches that are pretty similar but yet so different
Scrum teams are often smaller and more experienced than agile teams. In addition, they are more self-sufficient and require less direct supervision. It is one of the reasons why Scrum works well for challenging software projects, whereas Agile works well for more broad development projects.
What is Agile Project Management?
Agile began as a software-focused project management methodology. Agile project management involves making rapid iterations and breaking down large projects into smaller segments. The best part is that it is not restricted to software projects.
However, there are other agile variants based on the Agile Manifesto.
While specific frameworks, such as Extreme Programming, continue to apply Agile principles to generate functional software, Agile is more than just a software development process.
Almost any sort of project may benefit from the agile technique!
Agile project management is a method that breaks a significant project into smaller development cycles.
These sprints are then assigned to various self-contained agile teams to improve speed and efficiency.
You can integrate customer and stakeholder input at the end of each sprint since you have divided your project into smaller segments. This continual and progressive strategy ensures that the finished product meets the consumer's expectations.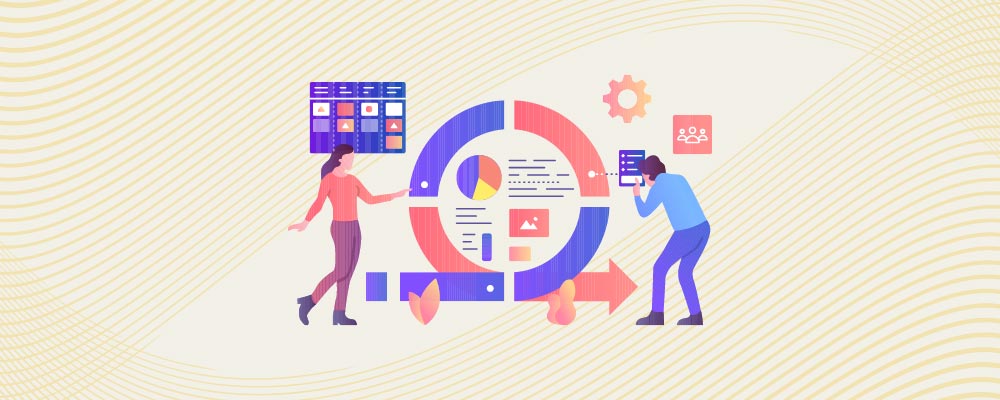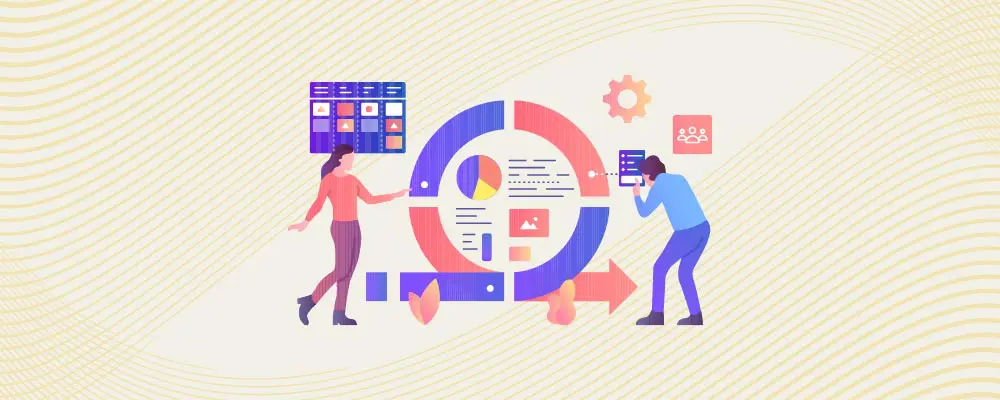 What Is the Process of Agile?
Iterative backlog management, sprints, iteration, and additional sprints are all a part of agile project management. Each Agile sprint is generally between two and four weeks.
Each sprint consists of the following phases:
To begin, the product owner organizes the product backlog. The product backlog lists all the tasks that may be done within the sprint. This information is frequently kept in a project management program
Before the sprint, the whole project team engages in sprint planning to choose the best tasks to focus on over the two-week timeframe
During the sprint, agile teams meet regularly to discuss impediments and action items
Following the sprint, team members assemble for a sprint retrospective to assess what went well and what might have been better
The Benefits of an Agile Approach
 Overall, the approach is geared toward supporting teams in accomplishing work faster. However, an agile method has other advantages that go beyond speed, such as:
As you work in small increments and review your progress at each level, it is easier to identify issues before they become too serious.
You can do complicated tasks rapidly. Large projects can be intimidating, but the Agile management approach may make them less so.
You receive a lot of feedback. It would be best to pause after each iteration to review progress with your teams. This means that you will receive a lot of feedback at every level, and everyone on the team will be on the same page
It is pretty adaptable. The agile project management iterative method makes it simple to include new features or modify existing ones throughout the development process
What is Scrum Project Management?
Scrum project management is a modern project management strategy that separates your project into smaller sections that are worked on in 2-4 week increments.
Each cycle is referred to as a sprint, allowing you to incorporate user feedback and make necessary changes immediately.
Scrum is closely related to Agile.
In Scrum project management, the project team is led by the project manager and includes a product owner, Scrum master, and other cross-functional team members. The product owner is responsible for enhancing the product's value, whereas the Scrum master ensures that the project team follows the Scrum methodology.
The Scrum methodology is characterized by short phases, or "sprints," of project development. The project team selects a small fraction of the scope to be completed during the subsequent sprint, which generally lasts two to four weeks during sprint planning.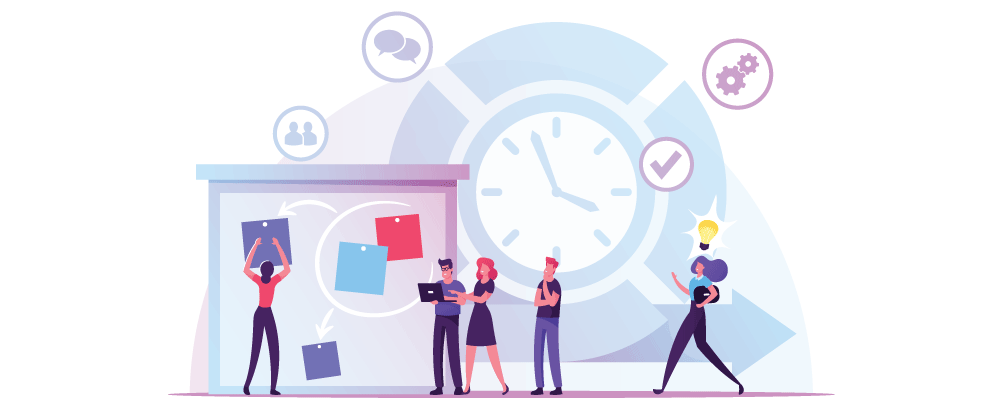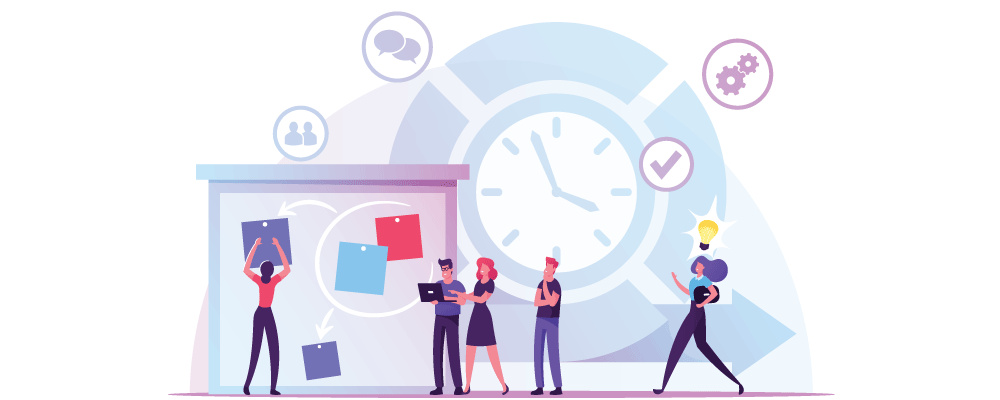 What is Scrum Process?
While Scrum, like Agile, was designed for software development teams, it is increasingly utilized in product development, engineering, and others to help them complete their work more quickly and efficiently.
Teams usually choose a Scrum master to oversee the three separate Scrum phases and keep everyone on track to complete a Scrum. The Scrum master might be the team leader, the project manager, the product owner, or the most active in the Scrum implementation.
The Scrum master is responsible for carrying out the three primary Scrum phases:
The first phase is sprint planning. Scrum sprints are usually two weeks long. However, teams can make shorter or faster sprints. The Scrum master and team analyze the team's product backlog during the sprint planning phase and select which tasks to do during the sprint.
Phase 2 consists of daily Scrum standups, in which teams interact for 15 minutes each day during Scrum to check in on performance and ensure that the amount of work assigned is adequate.
The final step is the sprint retrospective. After the Scrum is done, the Scrum master arranges a sprint retrospective meeting to review the accomplished work, route any incomplete work into the queue, and prepare for the next sprint.
The Benefits of Scrum
Scrum can help teams complete project deliverables in a timely and efficient manner.
Scrum ensures that time and resources are used appropriately.
Larger projects are divided into smaller sprints
Developments are programmed and tested during the sprint review
Works well for fast-paced development projects
The team develops clarity through scrum meetings
Scrum involves customer and stakeholder input since it is agile
Short sprints make it much easier to make feedback-based improvements
Agile vs Scrum Comparison
It is easy to see why Agile and Scrum are commonly misinterpreted, given that both rely on an iterative process, constant client interaction, and decision-making. The fundamental difference between Agile and Scrum is that Agile is a project management approach that applies a core set of values or principles. In contrast, Scrum is a specific Agile approach to assist a project.
Other notable differences exist between Agile and Scrum.
Agile
Scrum
– Agile is a software development process that is iterative and incremental

– This technique relies heavily on leadership

– Agile software development is best suited to medium to large project

– The capacity to adjust quickly to changes is the most significant advantage of agile

– Face-to-face interaction and collaboration among members of varied cross-functional teams are critical components of agile

– To collect feedback, agile development demands regular delivery to the end user

– Each aspect of its development, such as requirements, analysis, and design, is regularly checked

– The project leader is in control of all tasks in the agile approach

– End users can submit feedback throughout the development process. As a result, the finished product will be more beneficial

– The software is regularly deployed and updated

– The design and implementation should be as simple as feasible

– The goal of agile development is to always satisfy the client by consistently producing valuable software

– The most fundamental sign of progress is a functional software

– It is critical to speak face to face to come as close to the project goal as possible
– Scrum is a framework for agile techniques

– End users receive incremental builds every two to three weeks

– Scrum's team is autonomous and multifunctional

– Scrum is utilized in projects when the requirements change often

– A is less adaptable than agile. So, frequent adjustment is not possible

– In daily standup meetings, team members, the scrum master, and the product owner are assigned a specific function

– There is no need to make any additional adjustments while using the scrum technique

– Following each sprint, a build is provided to the customer for feedback

– Each sprint concludes with a demonstration of functionality. So that regular feedback may be gathered before the next sprint    

– Design and execution may be experimental and inventive

– The daily sprint meeting examines input and deliberates on the project's future direction

– Working software is not a primary criterion

– The Scrum team's goal is to create maximum commercial value.
Agile VS Scrum- What Should You Choose?
After you learn what Agile and Scrum are and how they work together, you might want to apply these approaches to your projects. Given the differences between the two, the topic of whether to employ Agile or Scrum should be avoided.
Instead, if you decide that an Agile approach is acceptable for a particular project, the question becomes, which Agile methodology should you use? Scrum, or one of the other Agile techniques, might be the answer.
Agile was created for software development projects and has shown to be incredibly efficient in this setting. As a result, an Agile approach will fail for projects with severely limited scope and development requirements. On the other hand, the guiding ideas of the Agile attitude are widely accepted across a wide range of project types. Consider the unique challenges and requirements when deciding if Agile is right for your project.
If you believe an Agile approach is right for your project, you must first decide whether Scrum is the best Agile methodology for your specific objectives and aims. Scrum is often best suited to projects with uncertain goals, a high likelihood of change, and/or a need for collaboration.
It is essential to recognize that the key to a successful project is not just choosing the proper strategy but also effectively putting that plan into action.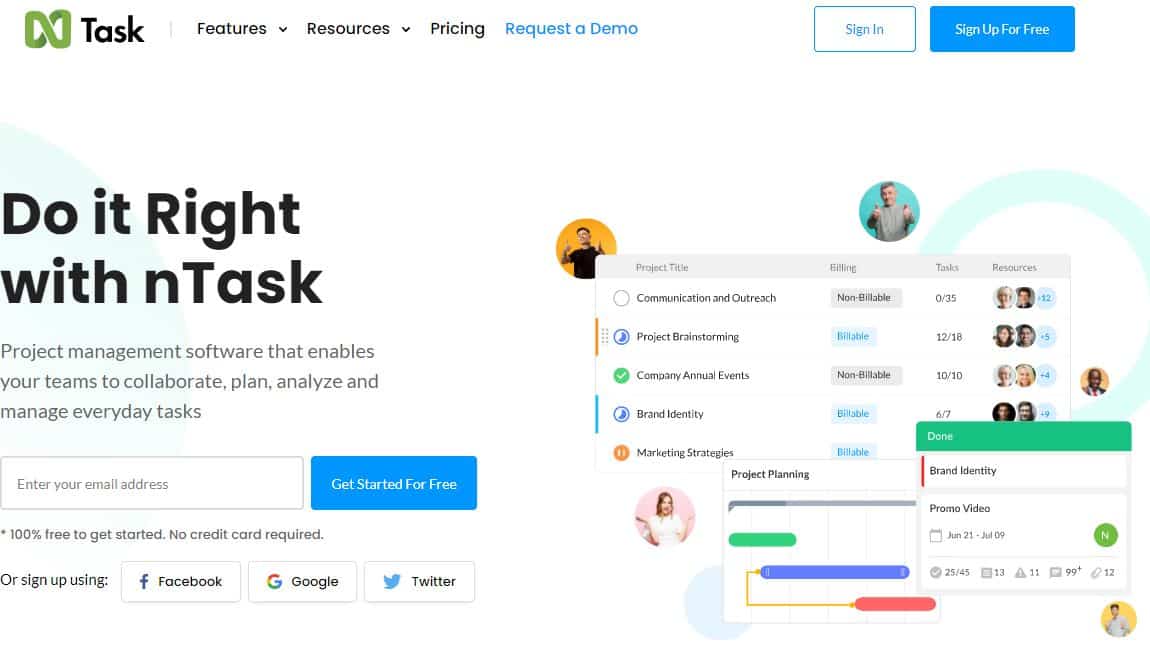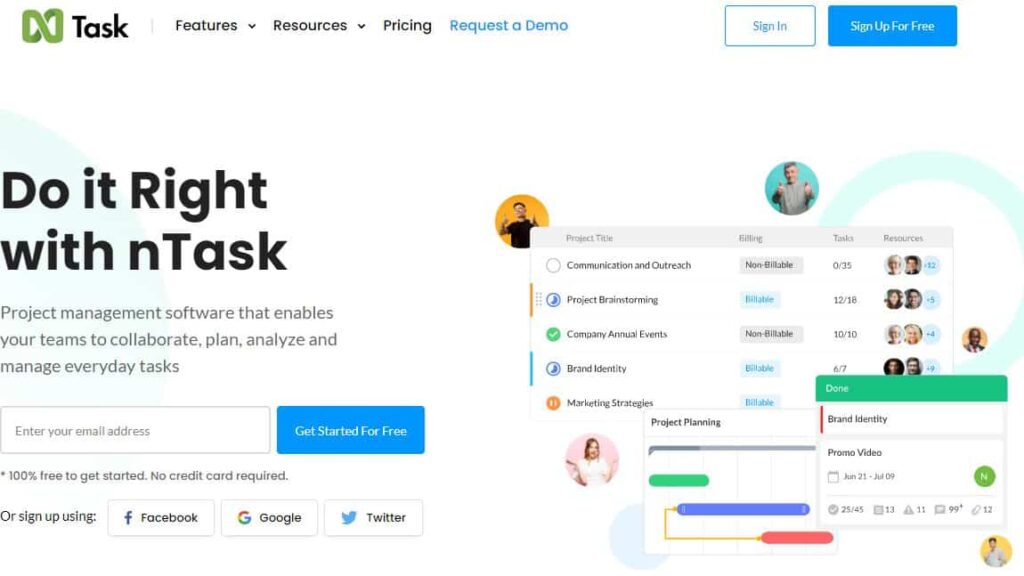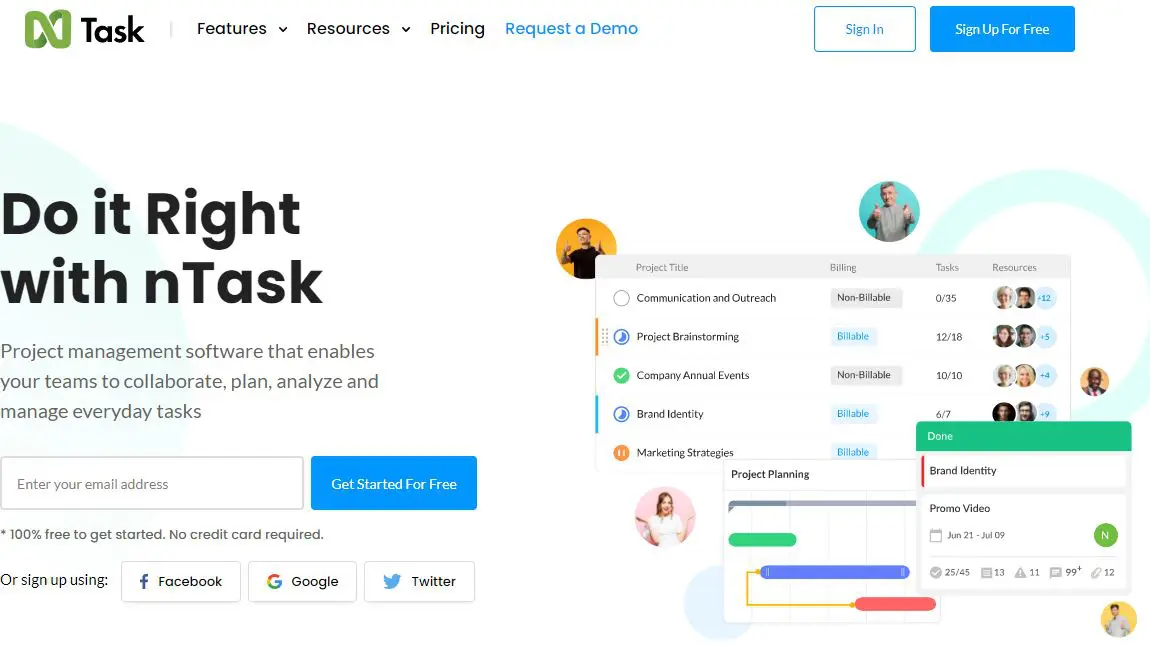 How can nTask help you with Agile or Scrum??
nTask is inexpensive and straightforward to use. It is best suited for small to medium-sized teams that do not require many features. If you are new to Scrum or run an agile project management team short on development, nTask is worth considering.
If you want projects, interactive Gantt charts (a bar chart that depicts your project's timeline), and custom filters, nTask will cost you $2.99-3.99 per user each month (monthly versus annual price). The latter is the least expensive option on our list (on the yearly plan).
If your organization is larger or you want more complexity, nTask offers a business plan with risk management for $7.99 per user each month (with an annual commitment).
This enables your team members to communicate with the pulled-up work, reducing the risk of miscommunication and project stalling.