A successful business plan makes a difference between getting your business idea off the ground or never being able to take the flight.
In a nutshell, the ability to write a business plan will convince investors that your idea is worth it, which is easier said than done.
That is where business plan software comes into play.
But there are multiple options to choose from. That is why we have curated this list of our top picks for the business plan software available to you.
However, before we delve further into the subject, you need to know what you are purchasing. Moreover, many programs don't have the exact features to fulfill the company requirements.
Therefore, it is super-important to know a bit about your would-be future investment before doling out a huge amount of cash.
What is a Business Plan Software?
Many people have come up with amazing ideas over the centuries, but you will find that not everyone has managed to convert these ideas into a valued business.
Why is that so?
The fact is, converting a great idea into a legitimate and convincing business plan is not as easy as one would hope.
It is a mammoth undertaking to create a plan to get your business started, funded, and generating revenue for the business to take off. That is where business plan software comes into play.
A business plan software aims to help you write a business plan that will help you obtain business capital or business loans.
The software is usually aimed at helping entrepreneurs, business developers, and start-ups.
The Criteria for Choosing Our Top Picks
Narrowing down our list to just the top business plan software available was quite a feat, with there being so many to choose from.
After much research, review, and consideration we managed to limit the list to just the cream of the crop. You may as well label them as 'crème de la crème.'
Our picks are based on the following criteria:
The number of features that each software has to offer
Whether the software is easy to use and user-friendly?
Pricing: We tried to incorporate software ranging in different price points
Reviews of the software from other users
The customer support that the software developers offer
Best Business Plan Software
Without further ado, let's get into our top picks for the best business plan software.
We will go over each tool in detail and discuss its prominent features and the pricing plans available.
However, if you wish to simply go over each in a glance, scroll down below for a concise comparison of all the tools we picked in our overview table.
Let's get to it.
1. nTask – Best Business Planning and Management Software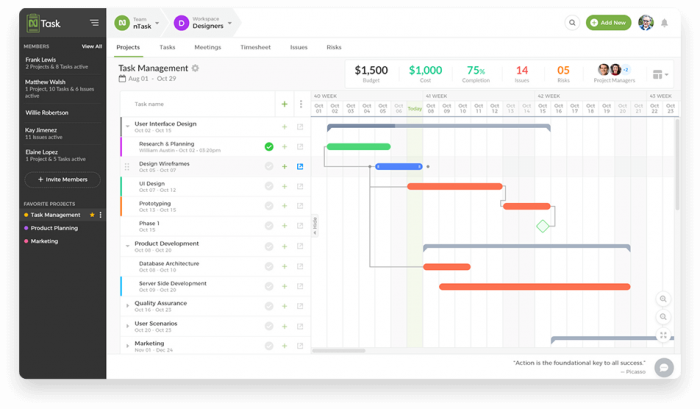 nTask goes beyond the typical business planning by several huge strides.
Yes, you can plan your business or whatever project you are working on, but the best part comes in bursts of nTask robust planning features.
So, saying that nTask is merely a business planning software would be an understatement. The program was developed to help project managers, home users, contractors, and MNCs with their daily workflow activities.
To that end, this tool is doing an amazing job. Top it all off with competitive pricing and a visual Gantt Chart feature that you can interact with for timeline management and create task dependencies. You can also create multiple workspaces in nTask to streamline different projects simultaneously.
nTask Features:
Multitasking by managing multiple workspaces, projects and teams on one app
Project Collaboration: Multi-user management and real-time team collaboration
Task Management: Users can create, organize, assign and manage unlimited tasks using nTask app.
Issue tracking and management
Risk assessment matrix implementation
Timesheets and various other time tracking modules
Budget Tracking: Billing system (billable & non-billable projects), budget management and financial summary
Gantt Charts: Ability to show business and project progress through interactive Gantt charts
Ability to invite stakeholders to view your projects/ businesses
3rd party app integrations such as Zapier, Zoom, Slack, Google Calendar, Outlook Calendar.
nTask Pros:
Ability to bring all business teams in one loop.
Business meeting management features
Complete project management suite
nTask Cons:
No templates available for now
No mind mapping features
Pricing:
Basic free plan
Premium plan starts at $3 per user/ per month.
nTask Business starts at $8 per user/ per month.
nTask is one of the Best Business Planning App.

Manage all your tasks, projects, collaboration, timesheets and more in one place. Sign up today!
2. Enloop – Automatically write business plans online.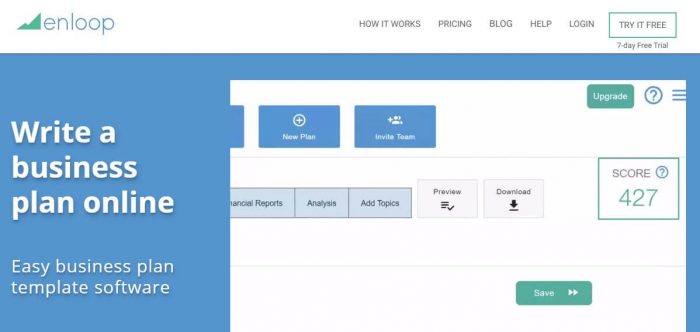 Enloop is a cloud-based business plan software.
With almost 300,000 users, it is a great option to consider if you want a software that helps you create a plan catered to a bank or an investor in a short amount of time.
With a load of valuable features, Enloop is a tool that can help make the process of making a convincing plan easier and faster.
Enloop Features:
AutoWrite and TextSync feature automatically generate basic customized text for your business plan, including 10 of the main sections for any impressive plan.
Forecast Modules in Enloop allows you to create a business plan based on one of two different forecast modules. You can choose from an annual or 36-month option, that provides a profit and loss forecast, balance sheet forecast, and cash flow forecast.
Financial projections in Enloop allow you to include in your business plan how your business will perform from a financial standpoint.
The tool gathers personal financial information and alongside financial data in the industry. Such features reportedly help to create financial reports and ratios that can be analyzed and used in your plan.
Enloop Pros:
Enloop provides great automation for a range of data
Along with Auto Write features, Enloop allows multiple customizable options
Enloop Cons:
You can only reach their customer support through an online form. Therefore they may not be as easy to reach as other options
Certain fields of data required to be filled do not provide enough data to properly understand how to do it
Enloop Pricing Plans:
A detailed plan for $19.95/month
Performance plan for $39.95/month
3. ProofHub – Complete Business Planning And Collaboration Software

ProofHub is a robust award-winning business planning software with project management and collaboration features included.
ProofHub is used by more than 85,000+ teams and businesses from all over the world for planning their projects and keeping track of everything. Along with project planning, ProofHub has got amazing team collaboration tools as well. It brings all your teams, projects, and communications together to keep things centralized and secure.
ProofHub Features
You can use existing project templates or create new ones.

Gantt charts to boost your project planning efforts with features like project timelines, task dependencies and more.

Effectively manage teams with its powerful task management features. You can create custom workflows using kanban boards or use tasks lists for managing simple tasks.

An in-built chat tool for communicating with team members, and a dedicated space to carry out real-time discussions.

Comes with a reporting tool, in which you get project and resource reports for effectively managing your resources and planning your projects.

Integrates with third-party apps like Google Drive, Dropbox, Box, Freshbooks and more to give you a central place to access all your favorite tools.
ProofHub Pros
All-in-one tool for planning your projects, collaborating with teams, and keeping your work organized

Has a free trial, and paid plans includes unlimited users and projects
ProofHub Cons
Limited third-party integrations
ProofHub Pricing Plans
Essential plan available at $45/month (billed annually)

Ultimate control plan available at $89/month (billed annually) with unlimited users and projects
4. Bizplan- Build your plan and grow your business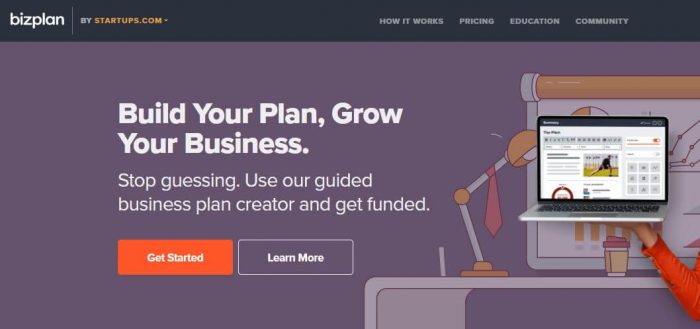 Bizplan helps with your presentation for your business plan. The software incorporates functionality and refined visuals into your plans to make it more memorable.
Bizplan helps you create business plans that are catered to attracting investors and thus be able to acquire finances for your business.
Bizplan Features:
Financial projections allow you to incorporate and present a solid financial case for your business idea.
Bizplan uses your financial data and provides you with the option to create a range of reports that you can analyze according to either month, quarter or year and allows you to download it to add to your presentation.
Bizplan's Step-by-step builder feature walks you through creating a business plan in an easy to follow manner.
Progress tracker tool allows you to understand how much of your business plan is complete, ensuring that you stay on top of your creation and do not miss out on anything important.
Templates in Bizplan lets you add elements that include market size and charts, content, advantages, team, reports, and problems.
Bizplan Pros:
Assistance is available in Bizplan with easy to follow video lessons.
Completion is made easy with templates to facilitate your creation
Bizplan Cons:
There is no free trial in Bizplan, so you don't have an option to see if the tool is right for you before you purchase it
Customer support is not provided through a traditional phone call but rather a skype call, that may be of no use to some. There is however an option of live chat which is pretty useful.
Bizplan Pricing:
Annual plan for $20.75/month
Monthly plan for $29/month
Lifetime access for $349/month
5. LivePlan – A business plan software with performance tracking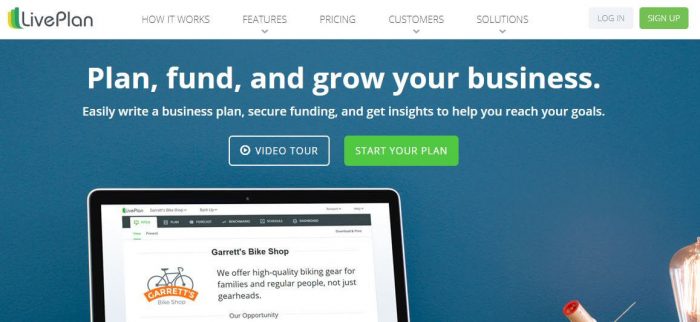 Palo Alto Software's LivePlan has been in the market for a while and there is a reason that many people still choose it as the best option available.
The software is a complete business planning tool and is loaded with customizable features along with learning resources and online help.
LivePlan Features:
Financial forecasting features in LivePlan include walking you through each piece of financial data that will allow you to include all important data in your projection. You can create annual and monthly budgets with this feature.
With the Charts and graphs tool in LivePlan, you can convert your financial data into more appealing visual aids.
LivePlan offers more than 500 Templates, making it one of the top software in this area. Templates can be used as a guide for your own content or used as is with the specific language already included.
LivePlan shows you how your financial projections compare to industry benchmarks that can be used in your business plan.
LivePlan Pros:
Includes 500 templates and loads of sample plans
The interface is attractive and user-friendly
LivePlan Cons:
No free trial version for evaluation purposes
Includes limited third-party integrations
LivePlan Pricing:
Annual plan for $15/month billed every 12 months
6-month plan for $18/month billed every 6 months
Pay as you go option for $20/month, billed once every month
6. GoSmallBiz – The tool that provides everything your small business needs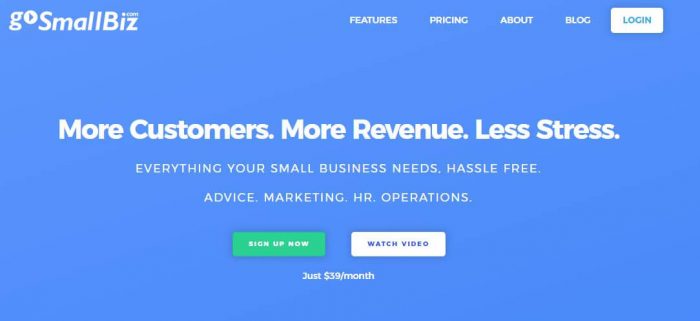 GoSmallBiz is a user-friendly business planning application that provides step-by-step templates with built-in advice modules.
Founded by Fran Tarkenton, GoSmallBiz allows you to create the exact documents you need as a business owner.
GoSmallBiz Features:
GoSmallBiz's step-by-step wizard walks you through each step of creating a great business plan.
GoSmallBiz provides everything you need to create financial statements through the financial projection
Create a wide range of reports based on the financial data you input for your business plan giving you an attractive visual aid to bring more attention to your plan.
Templates give you a starting point to work off of, to help you with the process of creating a business plan.
GoSmallBiz Pros:
Mentoring and business consultations
30-day money-back guarantee
GoSmallBiz Cons:
Only exports to PDF formats and Microsoft Word
Each subscription is limited to two licenses
GoSmallBiz Pricing:
GoSmallBiz provides a single pricing plan for $39/month that you can cancel anytime.
Check this out:
12 Best Planning Quotes for Managers
7. PlanGuru – A leading business planning software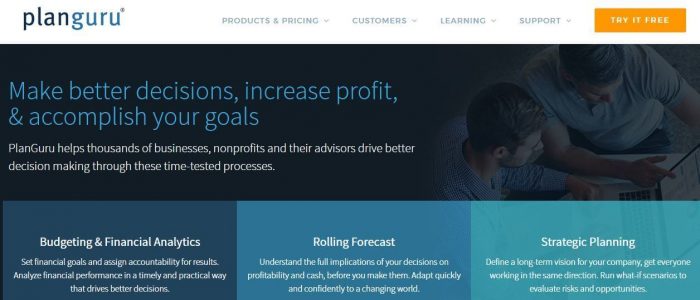 PlanGuru is one of the leading forecasting and budgeting software available. Therefore, it can be seen more as a financial reporting software than a business plan creator.
However, the features offered in PlanGuru have made it land a place in the list of our top picks.
PlanGuru Features:
PlanGuru provides tools for financial tools, forecasts, and calculations, allowing you to build an array of analysis reports for your company
PlanGuru provides in-built video tutorials to help you navigate not just the software, but also the creation of your business plan
PlanGuru provides you with the ability to export reports to Excel, Word, and PDF.
PlanGuru Pros:
Provides links to analytics add-ons
QuickBooks support is available
PlanGuru Cons:
Does not provide sample business plans for you to use
Does not provide the option to take a free trial
PlanGuru Pricing:
PlanGuru App for $99/month or $899/year
PlanGuru Desktop for $99/month or $899/year
8. BizPlanBuilder – The "practical and tactical" business-building roadmap and investor proposal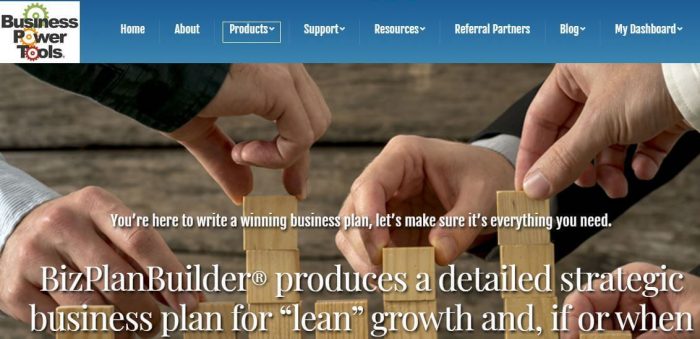 For over 30 years, BizPlanBuilder has been formally known as JIAN. They later transitioned to a different brand name.
Regardless, the tool is great no matter whether you are looking to create a growth strategy plan or a fundraising one.
BizPlanBuilder Features:
Whenever you start a new portion of your business plan, BizPlanBuilder provides an explanation tab and video for your education and guidance.
BizPlanBuilder provides a Business plan workshop to help you understand what investors are in search of.
Dozens of templates to choose from to get your business plan off the ground.
Provides you with the ability to create a pitch deck.
Ability to create a 5- or 10-year financial model.
BizPlanBuilder Pros:
Predefined text for each section of your business plan is available
A variety of templates available to choose from
BizPlanBuilder Cons:
Dependent on Microsoft Office to run
Often viewed as a time-intensive program to use
BizPlanBuilder Pricing:
Free guest account option
Subscription for everything at $97/month
Strategic planning, start-ups, and growth funding $27/month
Employee policies and procedures $47/month
Marketing, PR, sales and, social media $37/month
9. IdeaBuddy – A tool to plan and develop a business model
IdeaBuddy is an innovative business planning software that helps you plan out your business from the initial idea to an investor-ready business plan.
With IdeaBuddy aspiring entrepreneurs can develop their ideas, create a business model, validate a business concept, and get an impressive business plan. It all comes with a business guide that helps them understand the planning process better and makes sure they thought about everything.
IdeaBuddy Features:
Idea Plan

helps you sketch out your business quickly. It's their own business canvas that helps you build a business model by posting idea notes until you've covered all your business elements.

Business Guide

is a step-by-step guide that takes you through the five stages of the business planning process. All along the way, you can consult guides and tips that will help you plan out each stage to perfection.

Financial Plan

helps you get financials as accurate as possible without you having to do the boring maths yourself.

Business Plan

is created automatically as you finish planning out each stage of your business. This way, you get a great, customizable business plan, without having to do it twice.

Financial forecasting

features in LivePlan include walking you through each piece of financial data that will allow you to include all important data in your projection. You can create annual and monthly budgets with this feature.

IdeaBuddy

is offering

templates

for different kinds of businesses that can help you pan out your business faster.
IdeaBuddy Pros:
Attractive visual appearance

Innovative step-by-step business guide

Idea templates
IdeaBuddy Cons:
Limited features in the free trial

Some of the features are 'coming soon'
IdeaBuddy Pricing:
Dreamer plan – $15 per month or $45 per year

Founder plan – $25 per month or $85 per year

Team plan – $55 per month or $245 per year

Lifetime plan – $155, one-time payment
10. Cuttles – Startup Idea Building
Cuttles is SaaS'ing up business planning with an educational and interactive platform that makes it's simpler, faster, and more impactful than ever to plan and start a startup. This tool can help you make beautiful presentations and help you share the information with investors and stakeholders in a better way.
Using this application, you can create your business plan in minutes and present the business financials too.
Cuttles Features:
Validate your idea and create your business canvas with Cuttles' guided Pitch feature. Convince investors, your team, and future customers to get on board with a modern and beautiful presentation of your business idea.
With Cuttles' guided and powerful user-friendly editor you can create a best-practice, personalized, and amazing-looking business plan in no time that your stakeholders will love! Plan and structure your work to stay on course – even in wild waters. Set milestones and tasks, prioritize what to build, monitor your progress.
Have all your key financials at hand to keep track of and update your stakeholders. We've made it "click-easy" to make budgets, do revenue projections, and keep track of your runway at all times.
Showcase your team and equity. Always have a clear and convincing presentation of ownership and your most important assets: The employees, co-founders, advisors, investors – and you of course.
Present everything of the above to anyone – simpler, faster, in your brand design.
Cuttles Pros:
Great in-app guides and help
Awesome budgeting and runway feature
Beautiful app and very user-friendly
Cuttles Cons:
Needs more customization
Only available in English
Cuttles Pricing:
Dreamer Plan- For the entrepreneur with a great business idea (€15/month)
Startup Plan- For startups working together to bring one business idea to life (€30/month)
Unlimited Plan- For entrepreneurs and startups with more ideas to pursue (€50/month)
11. Upmetrics-The Ultimate Business Planning and Collaboration Software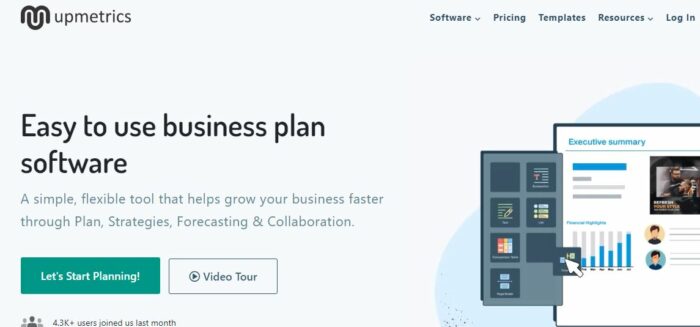 Upmetrics is a well-rounded business planning software that helps you with every step of writing your business plan, from drawing out your primary idea, financial forecasting, and creating pitch decks to discussing your idea with your investors and team.
Upmetrics is used by over 50,000+ entrepreneurs all across the globe to plan their business, collaborate with remote teams and create stunning pitch decks that can grab anyone's attention. Along with that, the software makes it easier to keep track of your projects and customize your plans as per your needs and requirements.
Along with that, it has handy business model canvases to help you brainstorm ideas and build effective and efficient business models.
Plan and collaborate from anywhere and at anytime
Now you don't need to jump from one software to another, find all the tools you need at one place.
Get handy tips to help you throughout the planning process.
Get real time feedback and suggestions from your team.
Affordable and simple pricing structure.
Upmetrics Features
200+ industry specific sample business plans to make your planning process easier.
Assign tasks and keep track of its progress. It helps you assign sections to team members who have the best abilities to write the concerned section.
Get immediate feedback and collaborate with your team on projects and share your business plan with banks, investors or with anyone you wish, through a quick link. Also, exporting your plan to Doc and PDF formats is super easy with the software.
Planning finances is no longer time consuming and overwhelming with our financial forecasting software that gives a complete forecast based on your data within minutes.
If a traditional business plan does not work for you there is a range of business model canvases which'll help you plan at a faster pace.
It helps you create impressive business pitches that'll help you explain your ideas more effectively.
And in case you are feeling stuck somewhere, each section comes with handy tips to help you throughout.
Upmetrics Pros
It helps you write a plan specific to the needs of your industry.
It consists of easy-to-use visual elements like charts, graphs, and timelines to make your plan look more impressive.
You get to design custom cover pages as per your brand colors and style.
Free demo available.
Export to PDF, Doc, or share directly through the link.
Upmetrics Cons
Third party integrations are limited as of now.
Upmetrics Pricing Plans
Basic plan starts at $5.42 per month.
Team plan starts at $8.25 per month.
Premium plan starts at $29.09 per month with unlimited workspace, canvas, and members.
12. Business Sorter – Live Business Plan Tool to Share
A cloud-based service called Business Sorter provides the content to let you construct plans that you can share and monitor. Six important topics are covered in the content: finance, sales, branding, labor, operations, and goods and services.
The program claims to utilize a revolutionary 273-card sort algorithm that addresses several frequent scenarios to streamline and accelerate company planning. Additionally, you have the option to add, edit, delete, or add your own cards.
Everything may be kept in one place, including your ideas and thoughts. Additionally, it provides guidance and ideas at each stage to assist you in putting your plan into practice. The educational materials available here, unlike some applications with videos, are offered as Word files and PDFs, which can be easier to access but more challenging for some beginners to understand.
Business Sorter features:
A system for planning using cards that have 273 digital cards
Built-in advice and further details
Enlarge the team and assign responsibilities
Access to several devices
Protected data storage
Business Sorter Pros:
Innovative, graphic plan creator
A special card sorting technique to make planning easier
Collaboration in real-time with an infinite number of users
Free regular updates
Dependable data security
14-day commercial trial
Business Sorter Cons:
Little need for financial planning
There are no educational videos.
Business Sorter Pricing plans:
Small Team plan: $80/ year (3 users, billed annually)
Medium Team plan: $240/ year (10 users, billed annually)
Large Team plan: $640/ year (30 users, billed annually)
Enterprise plan: custom pricing (unlimited users)
13. iPlanner – Enterprise Level Business Planning Tool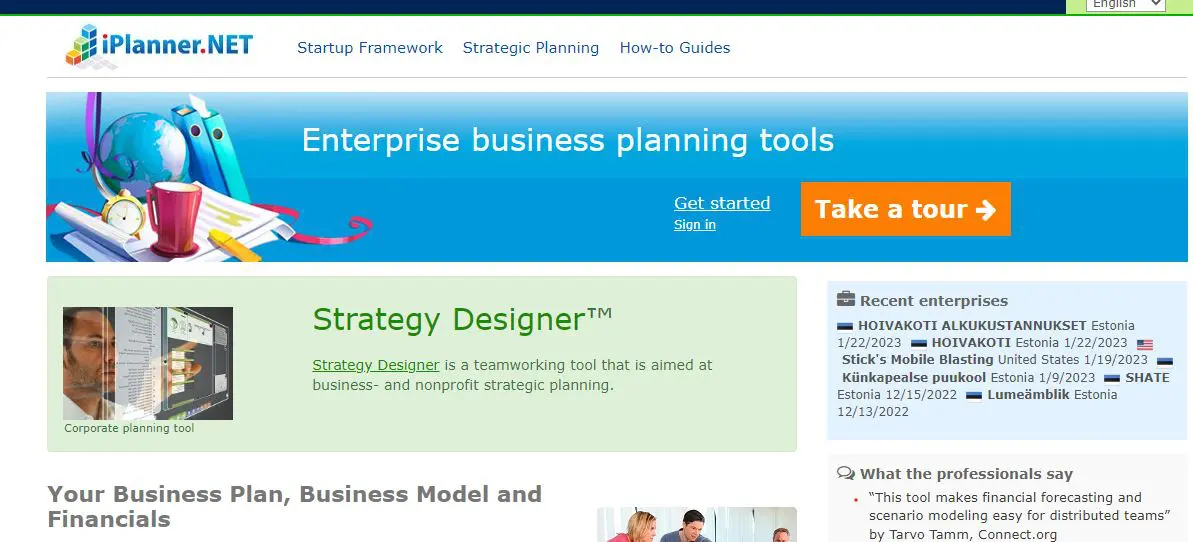 Since its 2007 launch, iPlanner has aided numerous firms in obtaining funding for expansion, managing risks, and enhancing internal communication. The program can be used as a project management tool in addition to its intended use as a planner for start-up businesses.
The business modeling framework enables effective team collaboration while enabling you to create a business model in real time. Additionally, it provides a number of user-friendly business plan templates, including those for venture financing, restaurants, elevator pitches, and more.
A financial engine is also built into the software to calculate various metrics including sales, quantities sold, anticipated prices, and more. Additionally, each project has its own unique URL to protect your private company data.
Collaboration and contribution are made incredibly simple because of iPlanner's integration with Microsoft Office and Dropbox. To keep you on track, there is a sizable collection of how-to articles and sample business plans.
iPlanner features:
Samples of business plans
Wizard that will guide you through each step from the beginning
Financial predictions and templates
Integrate with Microsoft Office and Dropbox
Mentors with expertise offer individualized support
iPlanner Pros:
Email customer service, how-to instructions, and professional advice are all readily available.
Using ready-made, sector-specific templates to produce unique business plans
Feed in content from many outside sources, including business intranets, websites, MS Word, and Excel.
Regular cloud backup of your data
iPlanner Cons:
Fairly dated interface
No option for monthly payment
Pricing plans:
Professional plan: $55 (billed annually, 1 project)
Corporate plan: $93 (billed annually, 12 projects)
Corporate Plus plan: Custom pricing
14. MAUS MasterPlan – Simplified Plan Making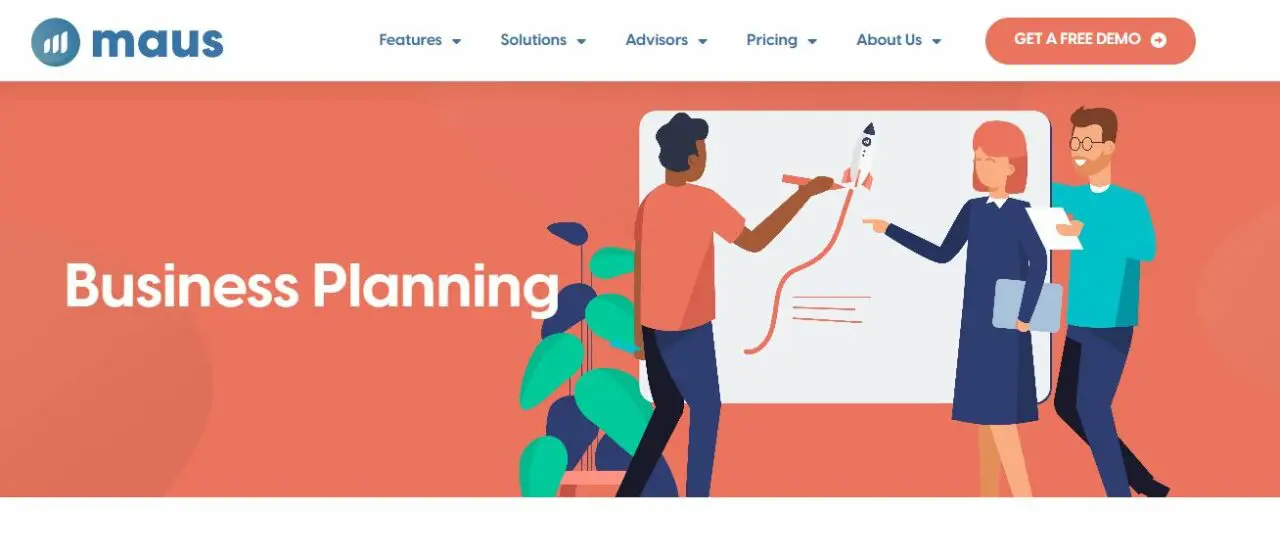 More than 60,000 people use MAUS MasterPlan, an Australian business plans service, worldwide. By providing templates, walkthroughs, and instruction at each stage of the process, it seeks to make the development and implementation of your business plan simple.
Based on your precise objectives and future predictions, you can create comprehensive action plans. Furthermore, you can assign tasks within the software and monitor progress.
You only need to enter the necessary information to calculate your money; the program will take care of the rest. In addition, it gives your team members access to your plans. They may assist you with the business plan, and once you're through, you can ask your accountant to examine it once more.
The segmentation information in the MAUS MasterPlan makes it simple to divide huge markets into smaller ones. That allows you to develop distinct strategies for the various segments. The application can produce marketing and performance reports in addition to financial reports for planning and predictions.
MAUS features:
You are guided by a wizard step-by-step through the entire process of strategic planning.
Make financial and cash flow budgets, as well as 5-year projections.
Features of market segmentation
Collaborative capabilities
MAUS Pros:
Simple to use
Detailed assertion and striking graphs
To keep the entire team on track, an automated action plan monitors various tasks.
MAUS Cons:
Costly for small enterprises and startups
Real-time mistakes occasionally happen
MAUS Pricing plans:
Business planning & HR Pack: $97/ month
MasterPlan Lean: $299/ year
Business Planning Pack: $499/ year
Honorable Mentions
During our time testing and research, certain tools did not make it to the list but still deserve to be considered.
With Wise Business Plans you can take the help of the range of templates available to you, to create your business plan. Although the templates are particularly tailored to funding, they are still useful no matter what type of business plan you are trying to create.
Business plan pro came up quite often when looking over reviews and made us want to check it out too. There is a variety of templates and plans to choose from helping you start your business plan, but then further for planning financials and consultancy services so you do get to know everything.
Does one need a business planner app?
If you're planning to start a business, then you'll need to keep track of all the different aspects of it. This can be done effectively with a business planner app, which will help you organize everything from finances to marketing strategies. In addition, these apps often include tracking tools for measuring progress and performance metrics.
Business planner software can be very helpful for entrepreneurs who want to organize their thoughts and plan their next steps. It can also be invaluable for businesses that need to track progress and make changes as needed.
Use best business plan app for your business
There are many different business plan apps available on the market, and it can be hard to decide which one is best for your needs.
Some of the features that a good business plan app should have include:
A user-friendly interface that's easy to navigate.
The ability to create, edit and print your business plan.
Support for a variety of formats, including PDF, Word and Excel.
The ability to track your progress throughout the process.
A database of previously developed plans that you can access for inspiration.
Frequently Asked Questions
1. What is business continuity planning software?
Business continuity planning software is a program aimed at making business continuity planning metrics, processes, and compliance more efficient.
This type of software helps businesses to update or create recovery plans, identify gaps in business continuity management, and conduct business-impact analyses.
2. What is some free business plan software?
Sometimes, the budget is limited and therefore you want to consider some free options for creating your business plan.
One such option is what we listed above which is BizPlanBuilder that provides a free plan for your business plan-creating needs.
Other such software includes 123Bizplan and Poindexter.
3. What is the best business plan app?
There are many apps available that can help you to create a business plan, but the best one may depend on your specific needs. Some of the more popular include nTask, Planit Pro, and Quicker Sacramento. All three offer different features and capabilities, so it is important to choose the one that is most appropriate for your needs.
4. What should a business planner software have?
A business planner software should offer a wide range of features that will allow you to track your progress and make informed decisions. Some key features that are often included are: budgeting, forecasting, goal setting and tracking, resource allocation, project management, communication planning, and team collaboration.
Conclusion
And there you go, everything you need to know about the best business plan software available to you. For future recommendations, don't forget to bookmark this post.
We will be updating it with juicy content that will help you in creating a solid business plan for any number of projects.